500+ Best Instagram Captions for Selfies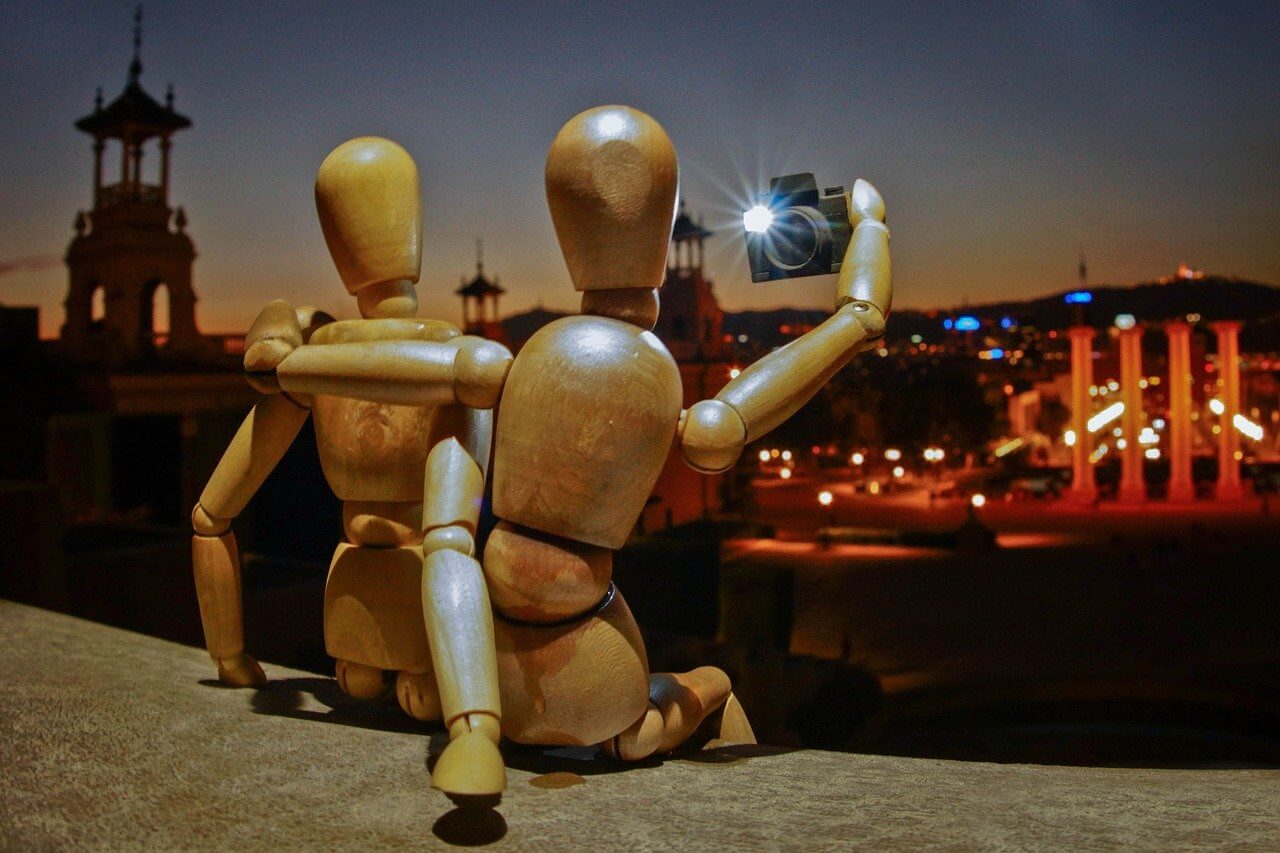 In this post we cover 500+ selfie captions and quotes for Instagram selfies.
Do you ever post a selfie but have a hard time when it comes to captioning it? We all have been there when after a selfie marathon; you can't pick a selfie, let alone a selfie caption!
The most trending selfie captions are perfect for giving a message on how you are feeling or thought through it. Selfies are not something of the modern era but have been around since the camera came into existence!
We live in a time where social media is everything, and people rely on it to stay connected and close to each other. Captioning your pictures is important because it says a lot about you, that is why we bring you these funny, cute selfie captions for Instagram.
If you are having a hard time picking a selfie caption for social network sharing, these selfie captions and quotes collection can be of great help!
Dig in to pick the most suitable selfie captions and quotes for your upfront photos!
Best Caption for Selfies
Take pride in your beauty and looks. Never give up on getting better to achieve your dreams! Get inspired by best caption for selfie below and inspire others around you too!
Smile a little more, regret a little less.
I wake up every day with a smile on my face.
Life is like a box of chocolates; sometimes you just dig out the good center parts and leave all the undesirable rest to waste.
Life is better when you're laughing.
I was born to shine.
Be yourself–everyone else is taken.
Every path has obstacles, but it is up to you to continue to smile and walk that path.
If you can dream it, you can do it.
The smallest change can make the biggest difference.
The world is full of magic things, patiently waiting for our senses to grow sharper. –W.B. Yeats
We are all a mess, but it's how we keep it together that makes us beautiful.
Lighten up, just enjoy life. Smile more, laugh more, and don't get so worked up about things.
Starry eyes sparkin' up my darkest night.
Keep smiling because life is a beautiful thing and there's so much to smile about.
Beauty attracts the eye, but personality captures the heart.
Stress less and enjoy the best.
It might feel like the end, but it's really a new beginning.
Suddenly someone amazing comes all along! Here I am.
A good selfie is when you successfully capture the feeling of that very moment!
Every day is a second chance.
Happiness is..a perfect selfie in just one click.
I just bought a brand new phone just to click selfies.
Never let anyone treat you like you're ordinary.
Very little is needed to make a happy life; it is all within yourself, in your way of thinking.
I'm the one that's got to die when it's time for me to die, so let me live my life the way I want to.
Be you, do you, for you.
People will judge you no matter what, so you might as well do what you want you to.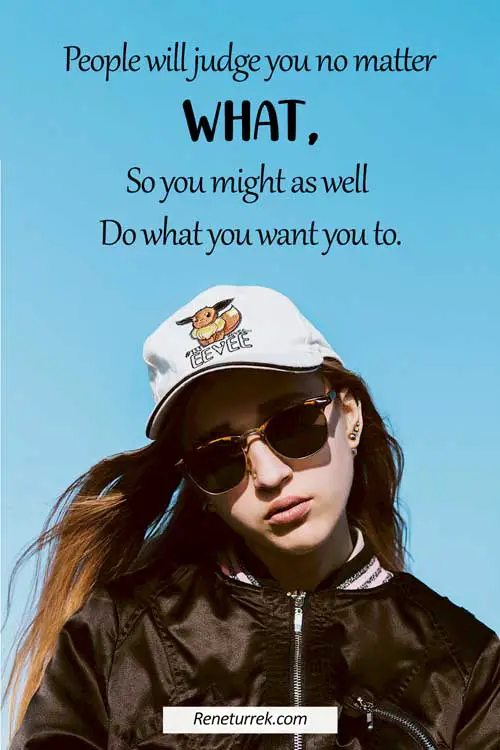 Funny Selfie Captions
Make someone laugh! You can upload a funny faced selfie with a funny selfie captions.
We all really like people on Instagram or Facebook who make subtle jokes under their selfies. I'll be honest here, I have tried to come up with such funny selfie captions but failed.
These funny selfie quotes are on point for funny moments when you cannot come up with a serious caption.
The ugly selfie you deleted is the real you. Accept it.
Vanity is the new trend.
Just a pic of me being an idiot.
Don't let your eyes be blinded by my handsomeness.
But first, let me take 40 selfies until choosing one that actually works
50% Savage. 50% Sweetness
Don't mind me. I'm just flexing
Laughing under the clouds.
You won't see another selfie like this from me for another seven months.
I'm not high maintenance, you're just low effort.
When the roots are deep there are no reasons to fear the wind.
I may not have a six-pack, but I like to think of myself as sexy in my own way.
Going to bed early. Not going to a party. Not leaving my house. My childhood punishments has become my adult goals.
Sending my selfie to NASA, because I'm a star.
I am not taking a selfie, I am just checking my camera quality.
Don't let your eyes be blinded by my handsomeness.
People say nothing is impossible, but I do nothing every day. –A. A. Milne
I'm not lazy, I'm on energy-saving mode.
You may say I'm a dreamer, but I'm not the only one.
You never know what you have until you have cleaned your house.
Just another manic Monday.
My skin and bones have seen better days.
Maybe she's born with it, maybe it's an Instagram filter.
Sure, I do marathons. On Netflix.
If you can't remember my name, just say, 'chocolate' and I'll turn around.
Kanye attitude with drake feelings.
I want to shake my leg on this track.
I want an ark, not a person.
Be a pineapple: stand tall, wear a crown, and be sweet on the inside.
One chance you have to say something pleasant.
Embedded self-important stuff in me.
Say cheese…sticks.
Sending my selfie to NASA, because I'm a star.
That annoying moment when you take a selfie, and your hair looks perfect but your face looks horrific.
What do you think of the view?
Ice cream is cheaper than therapy.
I'm not lazy. I'm on energy-saving mode.
Proof that I do selfies better than you. 
A selfie a day keeps the doctor away.
You just can't spell awesome without me.
They say nobody's perfect. Guess what? I'm nobody.
My hair is the crown I never take off.
Short Captions for Selfies
In this fast trek era, hardly anyone has enough time to go through long captions with hidden meanings. If you aim to show the world what you are in one shot, try one of the short captions for selfies from below!
The more brief a caption is, the more striking it looks under photos. These short captions for selfies are also full of motivation and inspiration for you to who you are. Life is short, and it is important to live it to the fullest!
Try short captioning your pictures which doesn't point out the obvious. Keep people guessing.
Hope is the heartbeat of the soul.
Risking is better than regretting.
Last night was a blue
As beautiful on the inside as I am on the outside.
Make them stop and stare.
This reality is a beautiful illusion.
Be a stiletto in a room full of flats.
You know you are on the right path when the crowd increases.
Be like a sea, wild, free, and beautiful.
Warning – You might fall in love with me.
Mentally at the beach.
But first, let me take a selfie.
Start somewhere.
Decluttering my life like Marie Kondo.
I woke up like this.
Better an Oops, than a what if.
There's no 'we' in fries.
Why chase you when I'm the catch.
All you need is love.
Selfie lord alert!
Selfie, selfie, on the wall, who's the fairest of them all?
Stay hungry. Stay foolish.
I'm sexy and I know it.
No pain, no gain.
Be true to yourself.
The future is bright.
Time for Changes.
There's no place like home.
Let life surprise you.
Aspire to Inspire before we expire.
OMG, look at my selfie.
If you got eyes, look at me now.
Love your enemies.
I don't take selfies all the time, just every day.
Cold Days, Warm Hearts.
I'm the girl you'll never be.
Straightening my hair.
Makeup magnifies the beauty that already exists.
Don't copy my style of taking Selfies.
A sass a day keeps the basics away
When daydreams become reality.
Shoutout to myself because I'm lit.
The little things in life matter.
Then give yourself the highest of fives!
Eat, tan, sleep, repeat.
It's not a phase mom, it's who I am.
Keep your heels, head, and standards high.
Cinderella never asked for a prince.
Coffee and confidence.
No matter how you feel, get up, dress up, show up, and never give up.
I am a Friday girl in a Monday world.
Tripping on skies, sippin' waterfalls.
Be you. Do you. For you.
Just wing it: life, eyeliner, everything.
Beauty without expression is boring.
But first, let me take a selfie.
Life is the flower for which love is the honey. – Victor Hugo
Don't tell people your plans. Show them your results.
Life is the journey, and only you hold the key.
Do what makes you shine.
Be young, be dope, be proud. – Lana Del Rey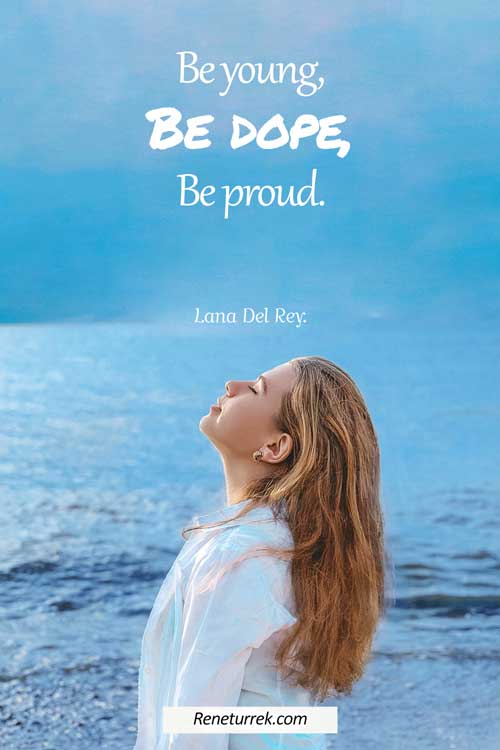 Instagram Captions for Selfies
While a picture can tell a thousand words, words can enhance a picture by telling a story. Similarly, Instagram captions for selfies can help complete your Instagram post, check the Instagram captions for selfies below and take the most loved one.
Dream big and dare to fail.
Keep your best wishes close to your heart and see what happens.
Beauty begins the moment you decide to be yourself.
Some past memories bring a smile to you. And this is surely one of it.
Share your smile with the world. It's a symbol of friendship and peace.
I been drinking coffee and I've been eating healthy. –Ariana Grande
You never know what you have until you have cleaned your house.
If you're crazy enough to believe you can change the world, you probably can.
Morning coffee, because anything else is worthless.
It is not how much we have, but how much we enjoy, that makes happiness.
Be a cupcake in a world of muffins.
May your coffee be hot and your eyeliner even.
Just because you're awake doesn't mean you should stop dreaming.
Life is like photography, we develop from negatives.
I just want someone to look at me the way I look at food.
My favorite part of this outfit is the invisible crown.
Early to bed and early to rise just means you weren't invited to the party.
You got that James Dean daydream look in your eye, and I got that red lip, classic thing that you like.
Life is not always black and white, it's a million shades of grey.
A little contour and a lot of confidence.
Never give up on your hair! It's the next thing people notice after your smile.
Happiness is meeting an old friend after a long time and feeling that nothing has changed.
Blessed, well-dressed, and totally stressed.
You will end up really disappointed if you think people will do for you as you do for them. Not everyone has the same heart as you.
I like big cups and I cannot lie. Cups of coffee—I'm talking about coffee.
It's just like damn—I'm competing with myself.
Cute Selfie Captions
Are you looking for something cute yet engaging? If yes then, these cute selfie captions will do the trick!
These cute selfie captions and quotes have a lot of empowering messages for people who are shy or feel nervous about putting up their photos on social media.
Never let anyone treat you like you're ordinary
don't always take a selfie, but when I do.
They say don't try this at home…so I went to my friends home!
I think this is as good as it gets. Frightening.
And it's all fun and games until somebody falls in love.
You have to believe the changes you've already made.
I am the princess of my own Fairy Tale.
On my worst behavior.
I'm an odd combination of "REALLY SWEET" and "DON'T MESS WITH ME"!!!
Stress does not go with my outfit!
I can't believe I'm telling you this but I've had a couple of drinks and…oh my god!
Onions make me sad. A lot of people don't realize that.
Can I borrow a kiss? I promise I will give it back.
Happiness is a drug. And I want to be your dealer.
I don't know what's tighter, our jeans or our friendship!
I love my eyes when you look into them. I love my name when you say it. I love my heart when you touch it. I love my life when you are in it.
It's sexy time.
My heart is and always will be yours.
Text me back or I'll find you.
Truth is, I'm crazy for you. And everyone can see that but you.
Yes, you're on my mind right now. And yeah, I can't help it.
My craziness is not everyone's cup of tea.
Be self-starter.
Sundays are for snuggles.
I know I'm lucky that I'm so cute.
I'm only human but admitted I'm such a beautiful mess.
Don't be so quick to judge me. After all, you only see what I choose to show you.
Girls are like abstract painting. Even though you can't understand them, they're still beautiful.
Look at me enjoying my life while there 1 million assignments due for college.
Messy bun and having fun.
Selfie Captions for Girls
Hey girls! This selfie captions for girls compilation is just for you!
Don't ever degrade yourself because of your gender or because of what people think of you! Girls are a blessing, and being a girl has unlimited perks!
Girls have the strongest emotions and are also pretty sensitive. Be as classy as you can be. Picking the perfect selfie is hard but never undermines your beauty if a picture didn't come out nice.
If you are proud to be a woman, girl, feminine, put up these selfie captions for girls to get your social circle "love" reacting it!
Crazy hair, don't care.
Dime piece.
Selfie Sunday.
Having the dream is easy, making it come true is hard. –Serena Williams
Happiness is just a chemical.
I am who I am, I am what I am, I do what I do and I ain't never gonna do it any different.
I love looking in the mirror and feeling good about what I see.
I don't dress up to impress others. I dress up to stare at my reflection as I walk by mirrors and windows.
Selfie We are all mirrors, and what we see in others reflects what we see inside ourselves.
My smile is my only beauty.
A cute smile is the prettiest gift I received from God
Black as the devil, hot as hell, pure as an angel & sweet as love.
The best way to start my day is with our lips pressed together.
Don't show me your attitude as you can't handle me.
A woman is like a teabag, you will never know her strength until you put her in hot water.
I'm no beauty queen, I'm just beautiful me.
I love looking in the mirror and feeling good about what I see.
Women have many faces, depending on who is looking.
Good girls go to heaven when they die only to find that all handsome angels are taken by beautiful girls.
It's hard to forget someone that gave you so much to remember.
Spread your wings & fly.
I got a good heart but this mouth.
I just don't want to look back and think "I could've eaten that.
The few times me rule the world, they have to make everyone know.
I like my money right where I can see it: hanging in my closet.
Believe in PINK.
I am not interested in temporary people.
My boyfriend still thinks my eyelashes are real. I guess we all have secrets.
I am the princess of my own fairytale.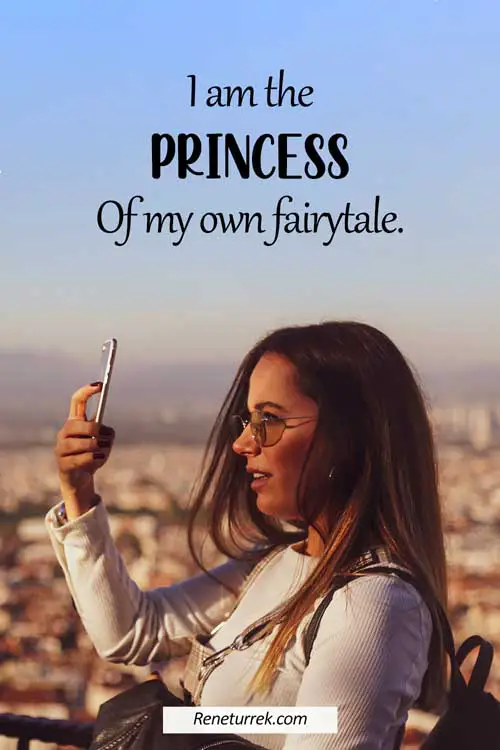 Selfie Captions for Boys
Cool and classy captions for guys pictures on Instagram influencing girls a lot. So, these cool selfie captions for boys will help you more in impressing girls and enhancing followers.
It's OK if you don't like me because not everyone has good taste.
You couldn't handle me even if I came with instructions
Life is like a box of chocolates; sometimes you just dig out the good center parts and leave all the undesirable rest to waste.
Great things never come to normal people.
Believe me you don't like my worst personality so deal with it.
Even the stars were jealous of the sparkle in her eyes
There's a dream that I've been chasing want so badly for it to be reality. –Justin Bieber
I don't care if you approve of me, I approve of myself.
The more money we come across, the more problems we see.
I have no selfie control.
Be the best version of you.
Invest the now in tomorrow's dream.
Never stop doing great just because someone doesn't give you credit.
I was born to stand out.
Don't talk, just act. Don't say, just show. Don't promise, just prove.
People will stare. Make it worth their while.
Live for today, plan for tomorrow, party tonight.
Today is officially under construction.
Make peace with your broken pieces.
Bury your attitude right underneath my shoes.
When things getting worse… songs will be the medicine.
Never tell anyone about your next move.
I am not broken so stop trying to fix me.
No need a girl… to be happy.
Books have stories but I have a library.
Please help me out to understands me better.
If people will jealous of you, then you're doing good better than they are.
Don't predict to be classy if you already are.
If you hate me then it's your actions who responsible for it.
Warning – No entry for girls.
Kill people with your success.
I have the sexiest mind… I can do whatever my mind wants.
Good Captions for Selfies
In this section, you'll find a list of good captions for selfies you can use for your photos. Feel free to copy-and-paste the good captions for selfies you like.
Some days start better than others.
You can't live a full life on an empty stomach.
Fairies are real…they are called sisters.
Be heroes of your own stories.
How lucky I am to have something that makes saying goodbye so hard.
Happiness is meeting an old friend after a long time and feeling that nothing has changed.
Life is too short to wake up with regrets. So love the people who treat you right. Forget about those who don't.
The smallest change can make the biggest difference.
Things I used to trip on, I walk over now.
But we're the greatest, they'll hang us in the Louvre. Down the back, but who cares—still the Louvre.
People won't always love you. They may love what you bring to the table and love what you may do for them, but that doesn't mean they love you. Learn the difference, my friends.
I'm not high maintenance, you're just low effort.
I need a six-month holiday, twice a year.
Caring doesn't really go with my outfit.
Look out, Victoria's Secret models—we comin' for your careers.
Drunk people, children, and leggings: They don't lie. And neither does this picture!
Nothing beats a good snuggle on a cold winter's night.
Lipstick speaks louder than words.
Life is a party. Act like it, dress like it.
I look away because I'm not feeling the present.
If you really love someone, you would not purposely do something to hurt that person.
If you really love someone, you would not purposely do something to hurt that person.
Stop being a zombie. Find something that you're excited about in your life; otherwise, you're just walking dead.
Life is way too short for bad vibes.
Reality called, so I hung up.
Don't dream of it. Train for it.
Sleigh all day.
Deep Captions for Selfies
You have finally made that perfect selfie for Instagram and want to add a deep caption? Then look no further as we have created the best collection of deep deep captions for selfies you can post on Instagram.
Don´t give up. There is no such thing as an ending. Just a new beginning.
Like it or not, you will eventually become a reflection of the company you keep.
When you are writing the story of your life, don´t let anyone else hold the pen.
Sometimes what you're most afraid of doing is the very thing that will set you free.
A happy soul is the best shield for a cruel world.
Home is not a place, it's a feeling.
A selfie a day keeps the friends away.
Very little is needed to make a happy life; it is all within yourself, in your way of thinking. –Marcus Aurelius
Confidence is not 'they will like me.' Confidence is 'I'll be fine if they don't.
Someday I'm going to eye roll myself into another dimension.
You only live once.
Beauty isn`t a state of your appearance; it`s the state of your mind.
Learning about myself even more.
Even if I knew that tomorrow the world would go to pieces, I would still plant my apple tree.
Sometimes home isn't four walls, it's two eyes and a heartbeat.
Uncertainty is the beauty. It may be end of the beginning or beginning of the end.
I had fun once, it was horrible.
What comes easy won't last. What lasts won't come easy.
Darling, you are a work of art.
I've found out that time can heal almost anything.
Choose kindness and laugh often.
So far, but so close to each other.
I can drive you crazy without a driver's license.
People take 300 selfies just to post one. This is the only one I took.
Saturdays are for the boys.
I'm only pretending to be me.
Born to explore the world.
Travel, because money returns. Time doesn't.
If you are reading this, I love you.
Another day, another sunrise.
Life is better with palm trees.
Let your success do the talking.
With patience you can even cook a stone.
Witty Captions for Selfies
With a simple tap of a button, you've got a selfie. Do you know how to make it funny and witty? Here is our collection of witty captions for selfies you can use to catch rib-tickling attention.
A selfie a day keeps the doctor away.
I might look like I'm doing nothing, but in my head I'm quite busy.
If I die tomorrow, will you remember me.
Honesty is the key to a relationship. If you can fake that, you're in.
Hey, I just met you, and this is crazy.
You just can't spell awesome without me.
Never on schedule but always on time.
I'm on a seafood diet. When I see food, I eat it.
Dear sleep: thanks for trying, but you can't beat surfing the net.
Gonna party like my birthday… oh wait, it is!
New year, same me… because I'm already fabulous.
We age not by years, but by stories.
Real men don't take selfies. Ironic, isn't it?
Just a pic of me being an idiot.
Shameless self-promotion is an underappreciated art form. Let's fix that.
Hey, don't be sad. Just so you know, sad backwards is das—and das not good!
Dare to be a doughnut in a world full of plain bagels.
Lies I tell myself: Just one more cookie. Just one more movie. Just one more minute. Yet… I wouldn't call them lies!
Today is a good day for cake.
Chocolate doesn't ask silly questions, chocolate understands – just like best friends!
We are the world, we are the children. –Michael Jackson
With you, it's twice the fun and half the trouble.
I m a math teacher. One plus two equals me and you.
A friend in need a friend to be avoided.
Bikini season is right around the corner. Unfortunately, so is the pizza place.
People are people but my fellows are really fellows.
Boys will be boys as long as there are no girls in the picture.
If life gives you lemons, just add vodka.
Just saw the smartest person when I was in front of the mirror.
Confident Selfie Captions
You will find that some of the best captions people use are confident selfie captions that help make others feel good.
Confidence and intelligence will never stop being beautiful.
The more you care, the stronger you can be.
Positive thinking will let you do everything better than negative thinking will.
I'm the QUEEN of my own little world.
I don't have the confidence to pull off a mustache.
I am more powerful than I am damaged and I will rise from any abyss you drown me in.
Beauty attracts the eye, but personality captures the heart.
One day I woke up and realized I was not made for anyone, I was made for me. I am my own.
I can be changed by what happens to me. But I refuse to be reduced by it.
I don't like myself, I'm crazy about myself.
I bask in the glory of my most magnificent self.
Chin up, princess, or the crown slips.
Courage is the birthplace of confidence.
Confidence cannot find a place wherein to rest in safety.
Abundance comes from a place of confidence.
Anything is achievable. Be positive, be enthusiastic, and project confidence.
The sun himself is weak when he first rises and gathers strength and courage as the day gets on.
The most beautiful thing you can wear is confidence.
A great figure or physique is nice, but it's a self-confidence that makes someone really sexy.
True beauty is the flame of self-confidence that shines from the inside out.
Female inferiority is internalized by us. Women need a lot more confidence.
You gain strength, courage, and confidence by every experience in which you really stop to look fear in the face. You must do the thing which you think you cannot do.
The problem with the world is that the intelligent people are full of doubts, while the stupid ones are full of confidence.
Even miracles take a little time.
Captions for Smile Selfie
A smile is a perfect way to brighten up anyone's day and no one can be upset about seeing a beautiful smiling face. Our collection of captions for smile selfies will make your personality shine through your smile.
Be a source of motivation for someone or a reason for them to smile. On this paragraph, you can find plenty of inspiration selfie captions for any photo occasion.
Beauty is power; a smile is its sword.
A smile is the second best thing you can do with your lips.
Keep Smiling. Keep Shining.
All the statistics in the world can't measure the warmth of a smile.
Every time you smile at someone, it is an action of love, a gift to that person, a beautiful thing.
A smile is a friend maker.
Keep the smile on.
I salute them who smile with trouble also.
All people smile in the same language.
Peace begins with a smile. –Mother Teresa
Smiling is my favorite exercise.
Stay strong, make them wonder how you're still smiling.
One smile can't change the world, but your smile changed mine.
Whatever happens, just keep smiling and lose yourself in love.
Use your smile to change the world, don't let the world change your smile.
Smile! It increases your face value.
A smile is a curve that sets everything straight.
Love is what makes you smile when you're tired.
A smile cures the wounding of a frown. -William Shakespeare
When I saw you, I fell in love. And you smiled because you knew.
Hey mom, smile, please.
Your smile makes me smile.
A smile is a free therapy to be happy.
Love is not possible without a smile.
Being happy and smiling isn't always a choice.
A smile brings endless.
A smile is the window of solution for all problems.
Smile in the mirror. Do that every morning and you'll start to see a big difference in your life.
Before I met you, I didn't know what it was like to look at someone and smile for no reason at all.
Worry less, smile more. Don't regret, just learn and grow.
All those beautiful lies, with your beautiful eyes, through your beautiful smile.
For a moment at least, be a smile on someone else's face.
Life is like a mirror; we get the best results when we smile.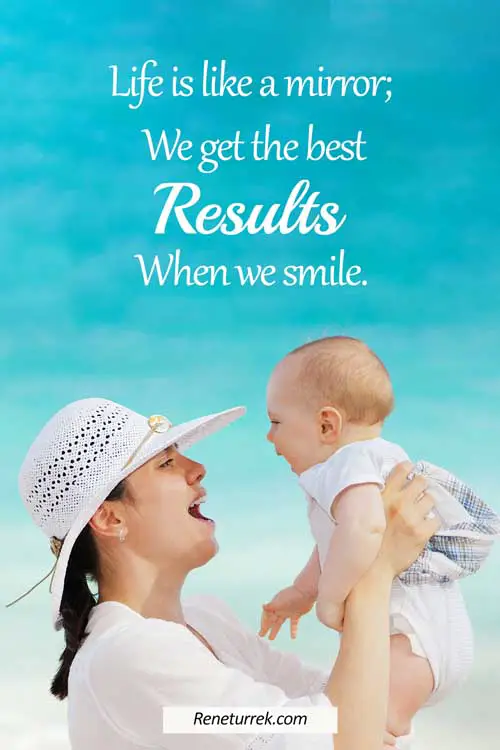 Captions for Selfies with Friends
Are you looking for perfect Instagram captions for photos you have taken with friends?
These captions for selfies with friends below have been the trendsetters of 2021, and you could use them to get the selfie game on! 
Friends 'till the end.
Always better together.
Friendship isn't one big thing, it's a million little things.
Friendship is the only flower that blooms in all seasons.
Everyone has a friend during each stage of life. But only lucky ones have the same friend in all stages of life.
I hope we're friends until we die. Then, I hope we stay ghost friends so we can walk through walls and scare people.
Good friends + Crazy place + Amusements = unforgettable memories.
Good friends, good books and a sleepy conscience: this is the ideal life.
True friends don't judge each other, they judge other people… together.
Coffee and friends make the perfect blend.
Save the photo for the future. If the photo you used holds a special place in your heart, consider turning it into a framed print or the start of a friendship photo book for you or your BFF.
I love my crazy best friends.
 Friends are the people in your life that make you laugh louder, smile brighter, and live better.
Find a group of people who challenge and inspire you; spend a lot of time with them, and it will change your life.
Fake friends believe in rumors; real friends believe in you.
The most memorable people in life will be the friends who loved you when you weren't very lovable.
Friends that travel together stay together.
Sweatpants, hair tied, and chilling with no makeup on.
Never let your friends feel lonely… disturb them all the time.
Friends are like bras – close to your heart and there to support you!
Making memories with friends is my favorite thing to do.
They are my Best Friends. You break their hearts, I will break your face.
Friends should always tell you the truth. But please don't.
Cute Captions for Picture of Yourself
If you got a perfect Instagram picture or selfie, then it surely requires a cute captions for pictures of yourself! This will help you gain followers, likes, and comments.
Your Instagram caption can be lyrical, poetic, or just daring enough to stand out. Being the focal point on Instagram does need hard work, and if you want to be in the mainstream, you need to work at it!
A selfie a day keeps insecurities away.
If I send you ugly selfies, our friendship is real. 
Confidence level: selfie without filter
They call it a "selfie" because "narcissistie" is too hard to spell.
Thanks for posting another selfie. I almost forgot what did you look like 24 hours ago.
Hello, modeling agency? Yeah, my selfie got 34 likes, I guess I am ready to go pro.
Nothing shakes the smiling heart. –Santosh Kalwar
If you have only one smile in you, give it to the people you love. –Maya Angelou
A smiling face is a beautiful face. A smiling heart is a happy heart. –T.P. Chia
7 billion smiles, and yours is my favorite.
Beautiful things don't ask for attention.
Don't try to be what you're not. If you're nervous, be nervous. If you're shy, be shy. It's cute. –Adriana Lima
It's okay if you don't like me. Not everyone has good taste.
Some people want it to happen; some wish it would happen, and others make it happen. –Michael Jordan
Boys got swagger, men have style, but gentlemen have class.
Nothing is more impressive than a person who is secure in the unique way God made her.
Black is a universal taste but an acquired obsession.
Everyone shines, given the right lighting. –Susan Cain
Beauty, to me, is about being comfortable in your own skin. –Gwyneth Paltrow.
Everything has changed and yet, I'm more me than I've ever been. –Iain Thomas 
Nothing can dim the light that shines from within. –Maya Angelou 
I'd rather die my way than live yours. –Lauran Oliver
Even the stars were jealous of the sparkle in her eyes.
You're a diamond, dear. They can't break you.
Something must be wrong. You haven't posted any selfie in days. Feel better soon.
Life's big question: are you really that attractive, or is your selfie game just strong.
My favorite beauty product is a Snapchat filter.
Sending my selfies to NASA 'cause I'm a f##kin' star.
Girls like my smiley face because I clean my teeth thrice a day.
More Selfie Captions
Do what your heart says, if you are putting up a picture of yourself on social media, you are already letting people a peek into your life.
Privacy is expensive and very important, and sharing your message is enough favor done already.
Treat yourself like a celebrity; keep smiling for it is the most beautiful jewelry you can wear. These selfie captions and quotes will help you.
When the world seems a mess, go inside and discover yourself.
Peace sign in the air I'm Nixon.
Make peace with your broken pieces.
Didn't they tell you, I was a savage?
Nothing can stop me; I am all the way up.
Self-love is the best love.
And suddenly you're all I need, the reason why I smile. –Abril Lavinge
I believe this world ain't half as bad as it looks, I believe most people are good. –Luke Bryan
I fall, I rise, I make mistakes, I live, I learn, I've been hurt but I'm stronger, I'm human, I'm not perfect, but I'm thankful.
Be brave to stand for what you believe, even if you stand alone.
If you can't see anything beautiful about yourself, get a better mirror. – Kendell Jenner
There is a reason fairies wear blue. It's the color of magic.
Her heart was made of liquid sunsets. –Virginia Woolf
I am having fun I am being myself I'm doing what I love, that's all that matters. –James Charles.
It is not your job to be everything to everyone.
Take off that shyness and wear some red.
Keep your face always towards sunshine and shadows will fall behind you.
Many have an image of me. Few get the picture.
Simplicity is the ultimate form of sophistication.
Elegance is a good taste plus a dash of daring. –Carmel Snow
Beauty is eternity gazing at itself in a mirror. – Khalil Gibran
Be like a sun, keep on shining and let the world burn.
She is a mess of gorgeous chaos, and you can see it in her eyes.
I know looks aren't everything, but I have them just in case.
Embrace the glorious mess that you are. – Elizbeth Gilbert
I am basically a girl with the personality of a dude.
A wise girl knows her limits; a smart girl knows that she has none. – Marylin Monroe
A woman is like a teabag. You never know how strong she is until you put her in hot water. –Eleanor Roosevelt
She's proof that you can walk through hell and still be an angel.
A girl's best friend is her pride.
Be too much of a lady to put up with anything less than a gentleman.
I'm a mud and mascara kind of girl.
Selfie Quotes For Instagram Selfies
Take time to create good photos so that people can see that you have put in the effort to show them something from your point of view. You can add these selfie captions and quotes to enhance your picture's viewership further.
Whatever is good for your soul, do that.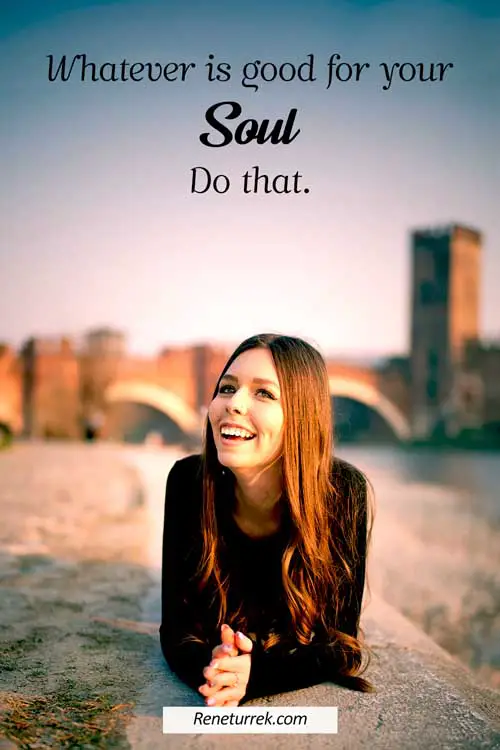 Dream as you will live forever; live as you will die today. –James Dean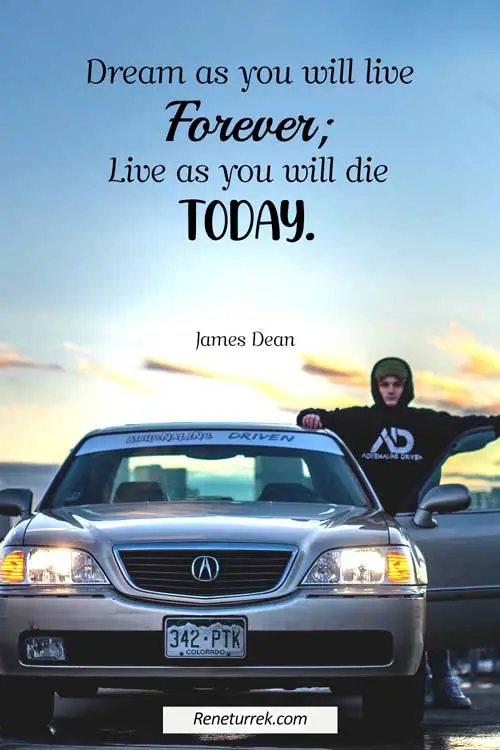 I am going to search for my star until I find it. It's hidden in the drawer of innocence wrapped in the scarf of wonder. – Michael Jackson
Very little is needed to make a happy life; its all within yourself, in your way of thinking. –Marcus Aurelius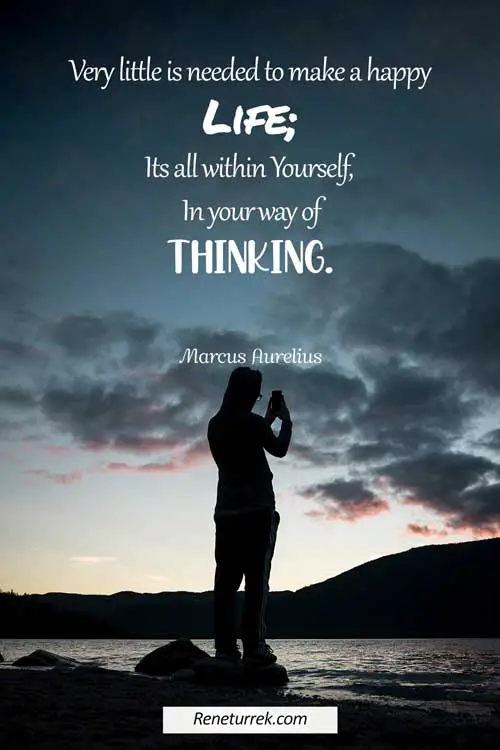 You can change your haters' minds with a smile.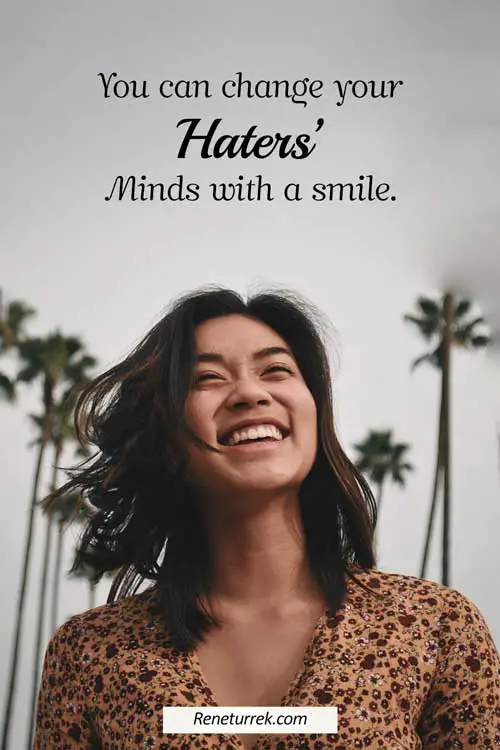 A smile is happiness you will find right under your nose. – Tom Wilson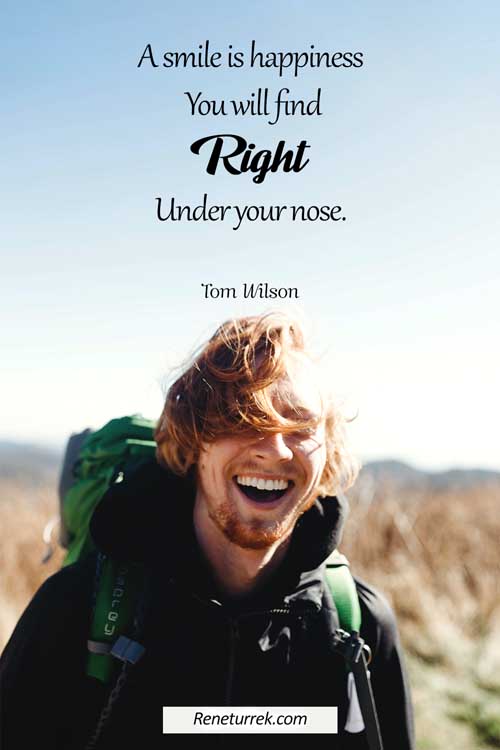 Lose yourself in the things you love for that is where you will find yourself too.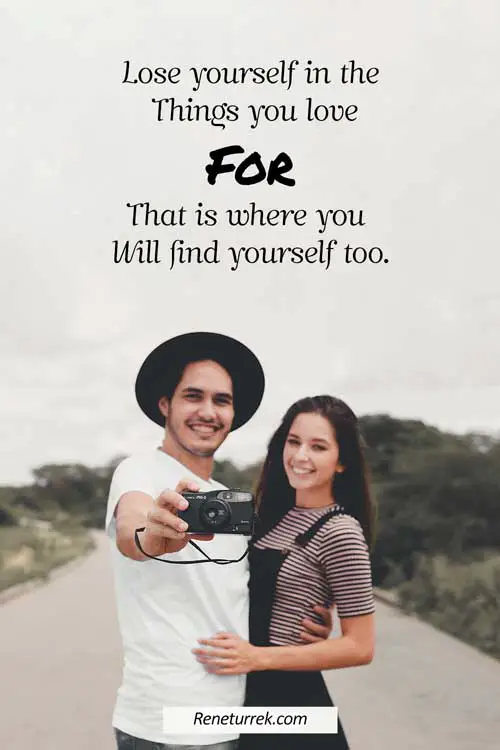 They say good things come to those who wait, so imma be at least about an hour late.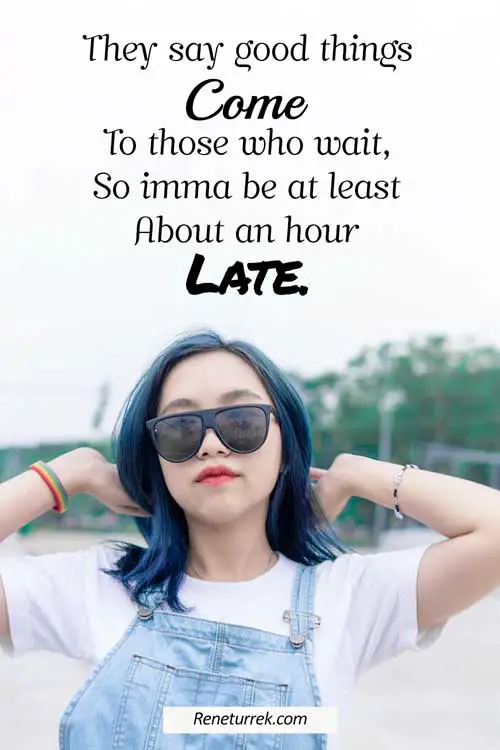 Be your own kind of beautiful.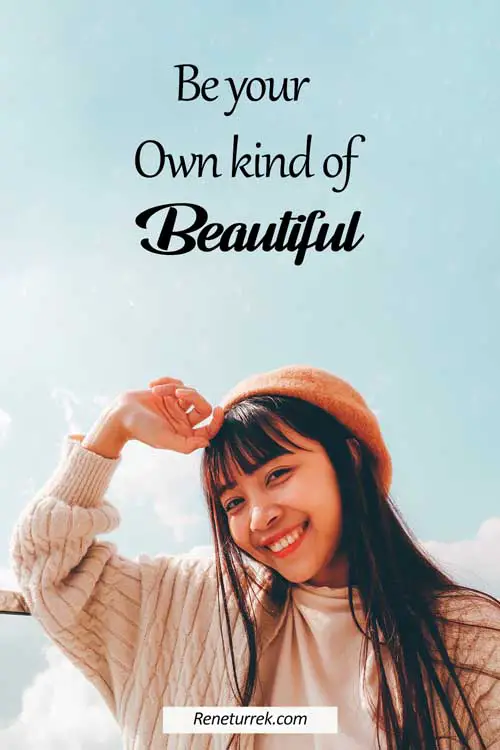 Beauty is power; A smile is its sword. –John Ray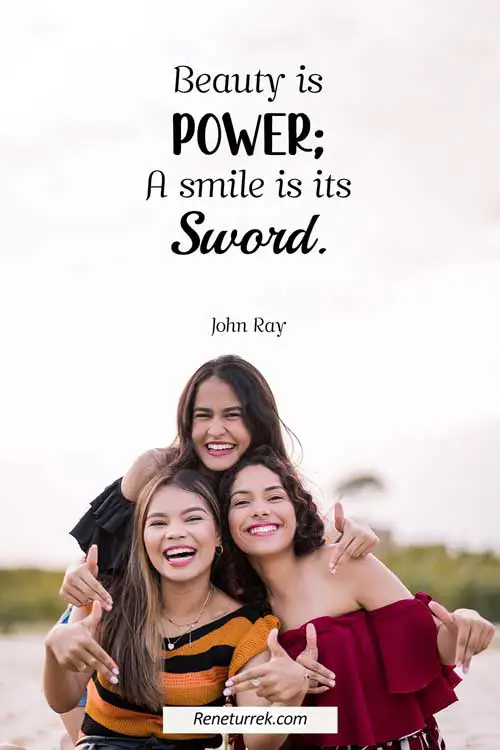 I don't take selfies all the time, I just do it once and a while, every day.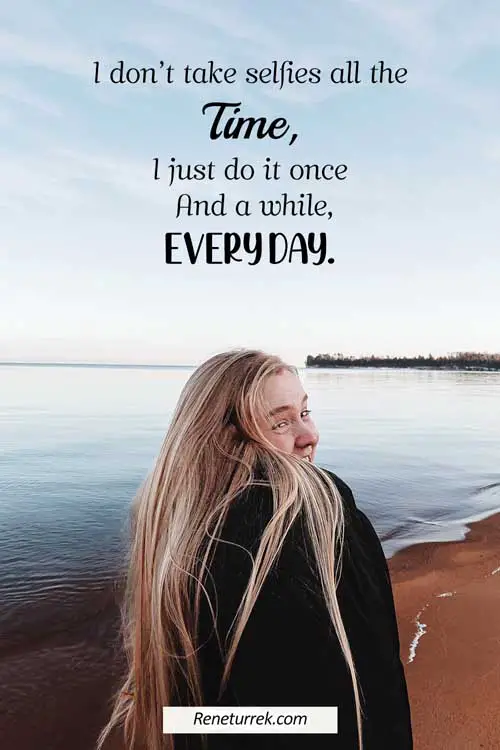 Behind every selfie, there are 99 deleted shots.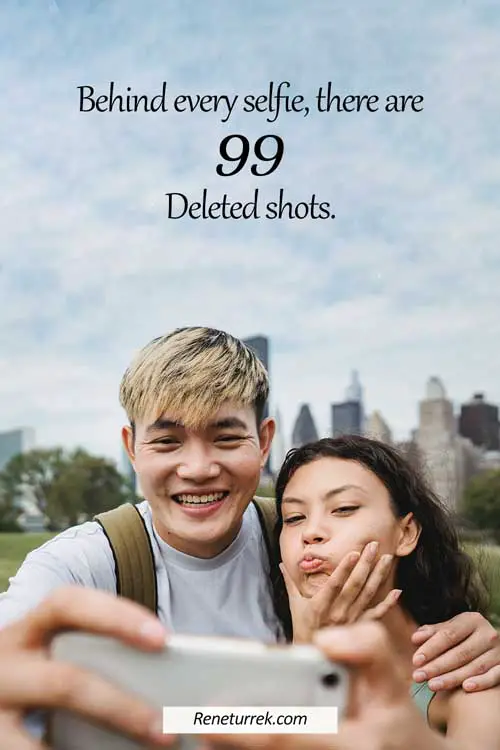 What's the best way to develop upper arm's strength? Take lots of selfies.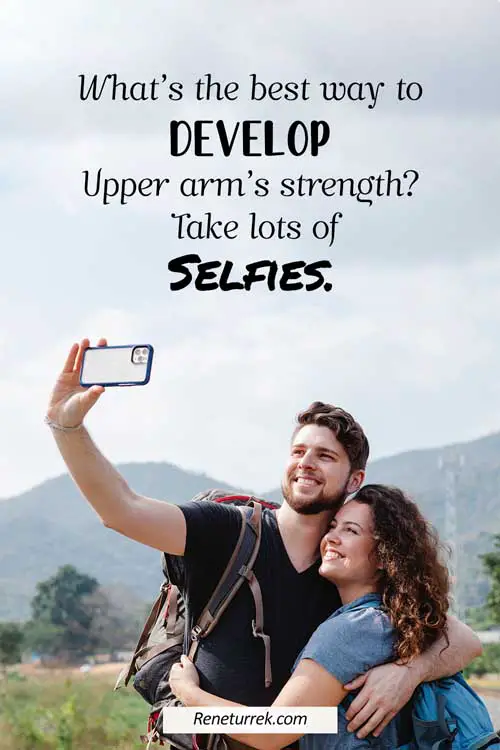 When you take a selfie so good, you can't believe it's you.
May your day feel as good as taking a perfect selfie at first try.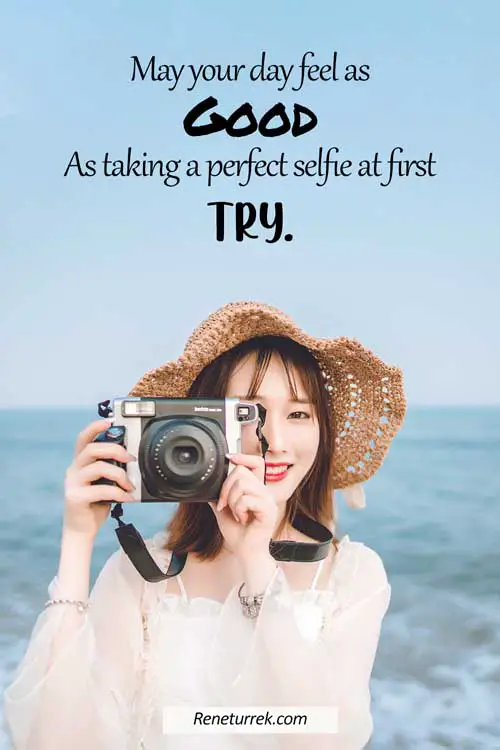 Selfie Quotes with Images
So far, 2021 has not been the best of the years. People have been trying hard to make ends meet, the world is in a recession, and nothing seems right. 
You can use this time to give out a strong message of help and support by captioning your pictures rightly. 
A lot of celebrities have been flaunting new styles with their captions, which are short but get the word through! Have a look from the selfie quotes with images and pick the one that best suits your style. 
When you can't find the sunshine, be sunshine.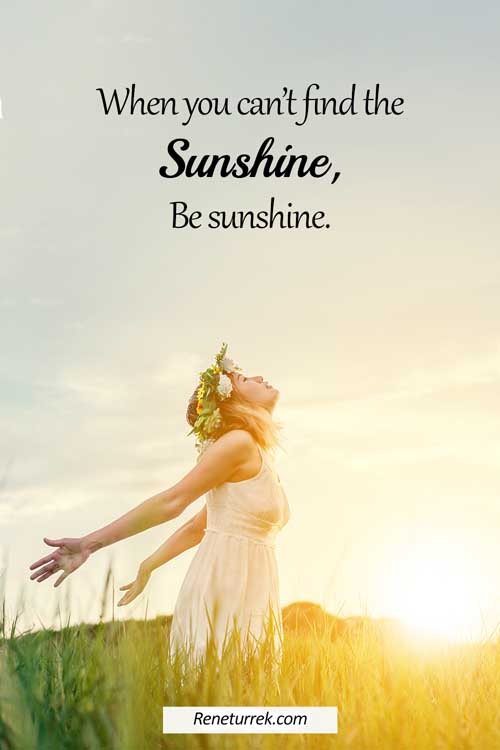 Life isn't perfect, but my hair is.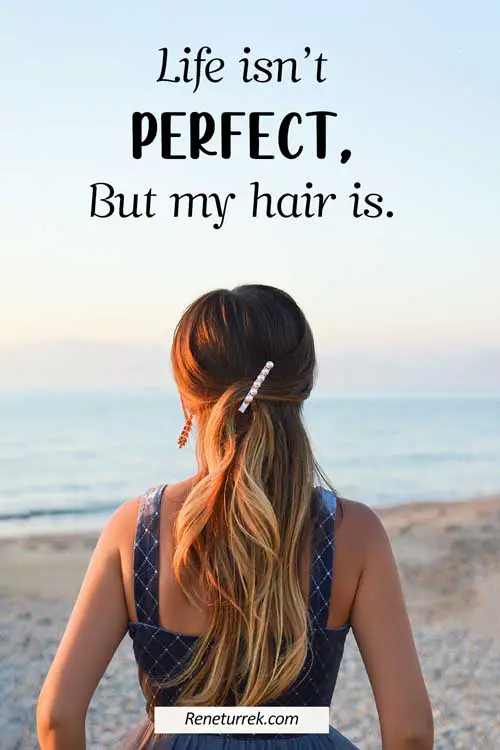 A smile is the most beautiful curve on a woman's body.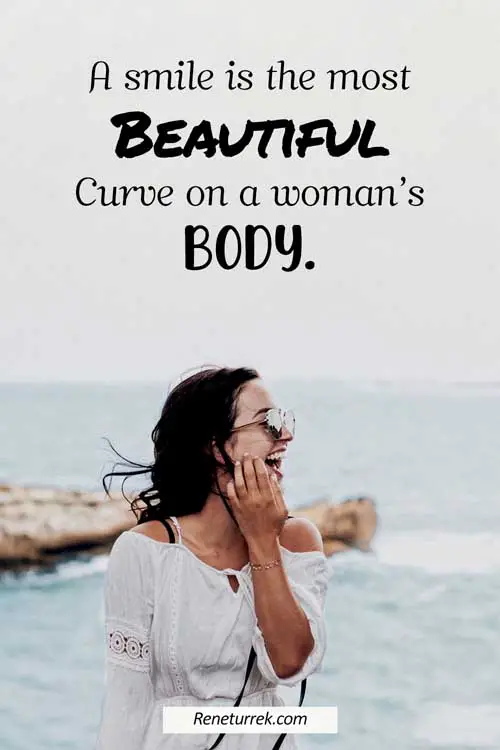 If you can't go outside, go inside.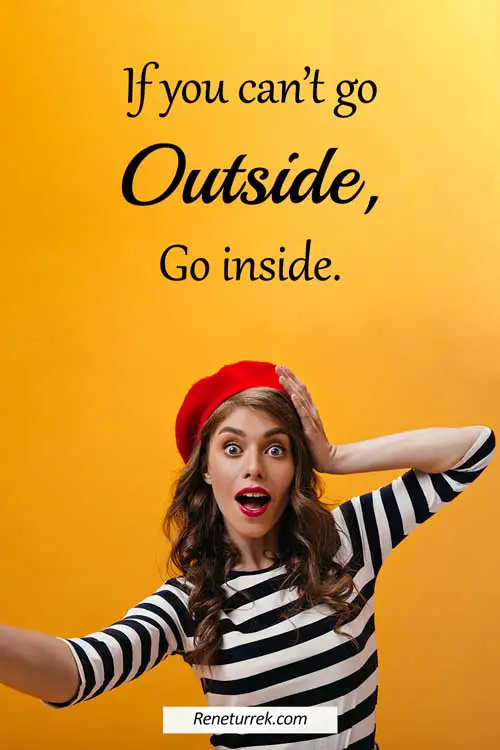 Beauty is about enhancing what you have not changed who you are.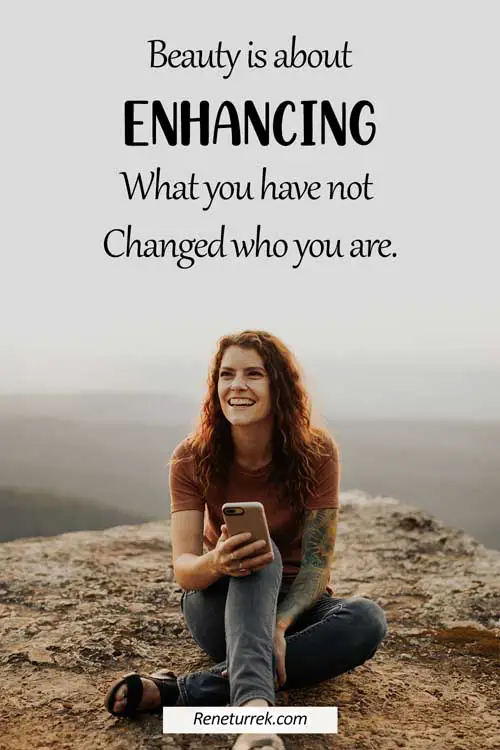 I can't stop being awesome; it's in my blood.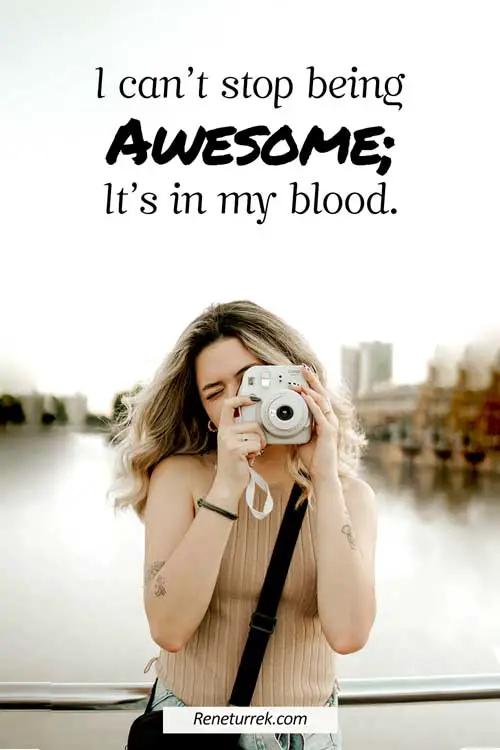 Dream without fear, love without limits.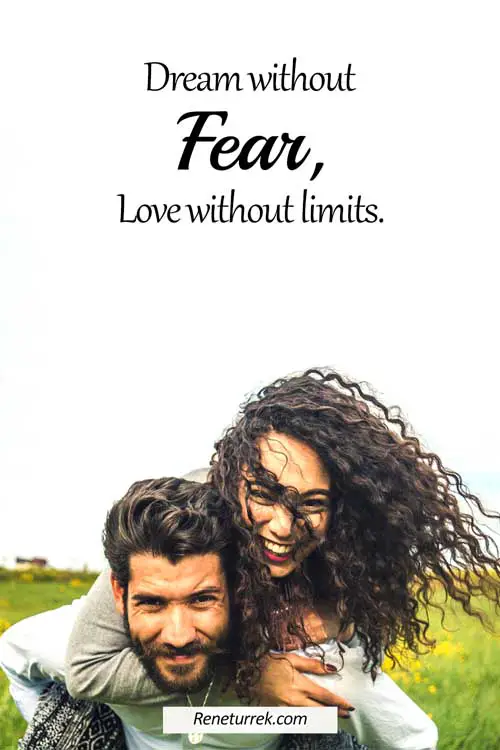 I can. I will. Watch me.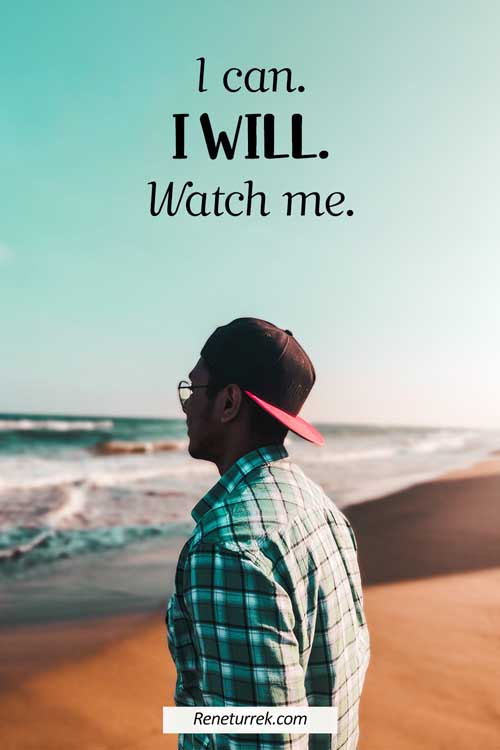 Behind every girl's selfie is approximately 37, nearly identical photos, that just didn't make the cut.
Scientists have announced a new unit to accurately measure narcissism: selfie per hour.
I haven't posted a selfie in a while but still, I am very cute just to keep you updated.
Be as picky with your men as you are with your selfies.
Be a girl with a mind, a bi##h with an attitude, a lady with class. –Rihanna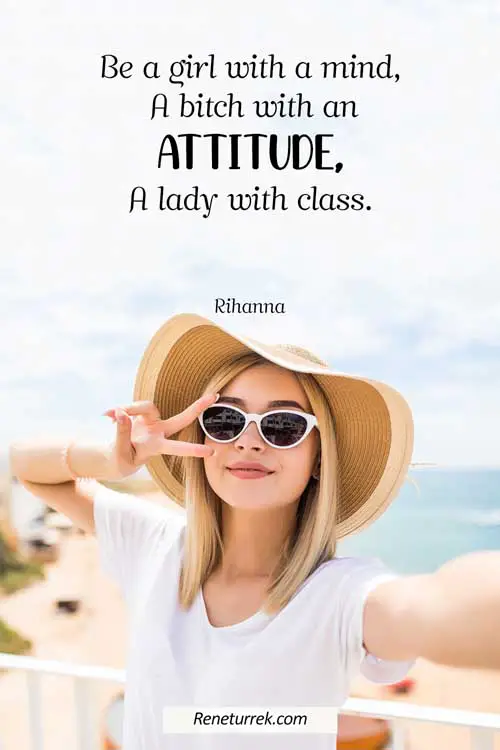 Be the girl with not just beauty but also swag.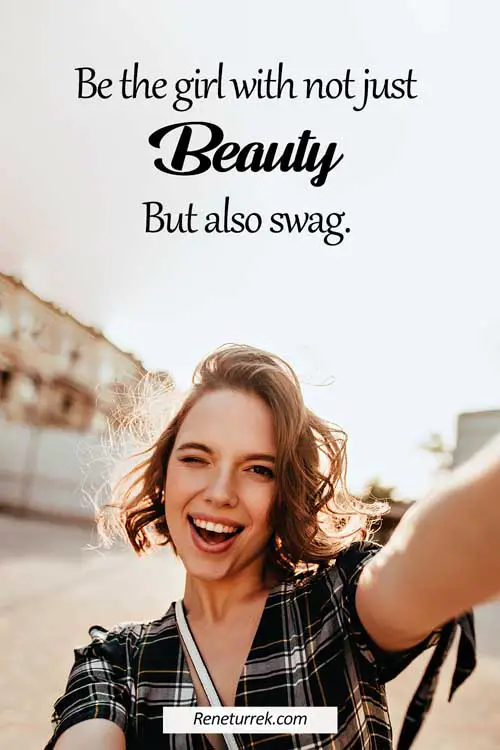 Some girls are just born with glitter in their veins. 
A girl should be like a butterfly, pretty to see hard to catch.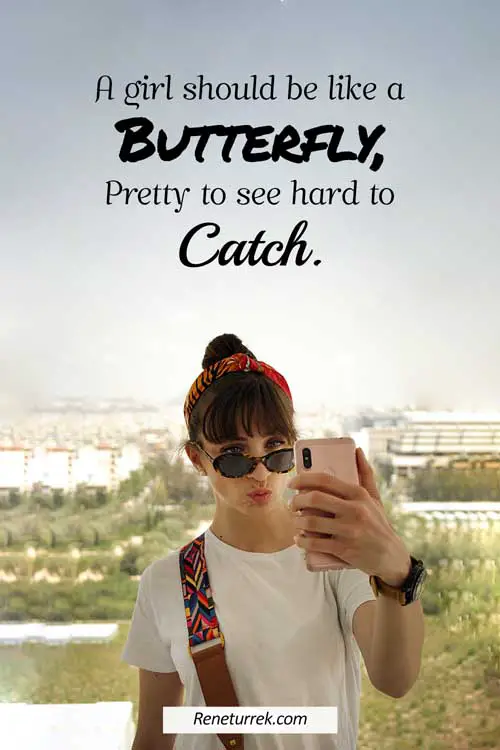 Classy is when a woman has everything to flaunt, but she chooses not to show it.
Kill them with kindness and bury them with a smile.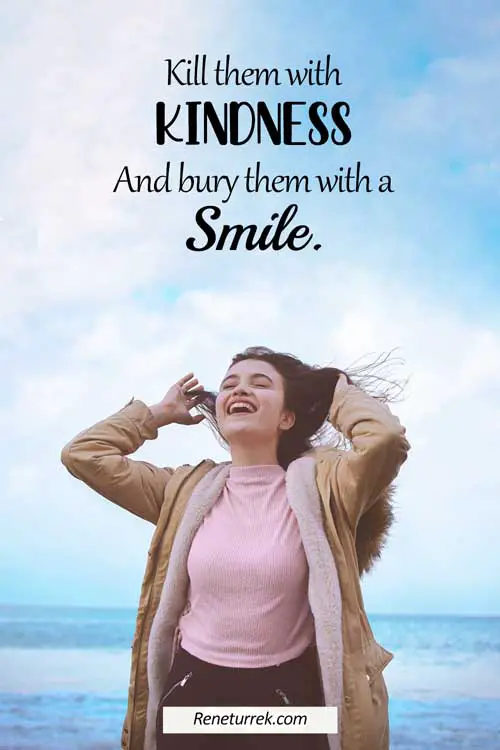 Final Thoughts on Selfie Captions and Quotes
Instead of just putting up your pictures with an emoji, a very long description, or nothing at all, you could use one of these cool trending Instagram selfie captions. 
You can use one of these captions and quotes under a selfie or a picture to voice your opinion. What's more, is that you can also suggest these to a friend who is indecisive about captioning their photos. 
Tag a friend in your captions or use hashtags to bring your post up. That is a trick all Instagram gurus do to come on the top feeds. 
Copy your top picks selfie captions from here and post them under your photos to make them look unique and attention-grabbing.
Budget Friendly Gift Ideas for Your Grandparents This New Year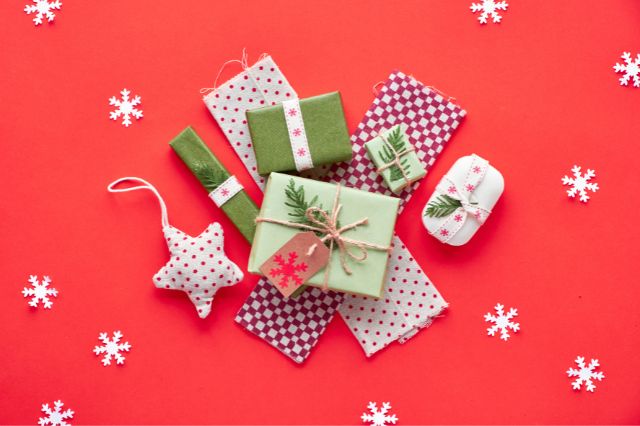 All the things we cherish, such as wise counsel and much warmer hugs, are abundant in grandparents. Want to give back this new year? Here is a list of the top present suggestions for grandparents that they'll like. And while these are all excellent new year presents, you can also use these creative suggestions for another holiday or special event.
Writing journal
Encourage your grandma to tell their life story in the unique memento diary from this new year by having them write it down. The diary's nine parts cover different life periods and provide direction through challenging questions and writing exercises. This gift not only helps your grandparents reminisce but also gives you priceless knowledge that you can use and value for the rest of your life.
Smart clock
The smart clock is a logical development from the conventional clock that is more sophisticated. This cutting-edge model replaces the retro-inspired, simplified appearance with a wireless charging station instead of charging ports. Thanks to this, your grandparents can easily charge their cell phones at night.
The innovative clocks also have features like alarm settings and easily readable graphics that you would expect from a bedside clock. The most recent models also come with new features like voice commands through Google Assistant, better speakers, a sizable touchscreen with ambient light sensors, and a potent microphone that can be muted for privacy.
Phone stand
The phone stand is here to save the day for those of our grandparents who use their cell phones excessively. It is one of the best phone accessories as it fastens to the rear of a phone, slides into an easel-like position, and stretches to full length for a portable stand. FaceTime, cooking, and Zoom meetings will become more comfortable with the help of a stand for your grandparents.
Foot massager
This affordable gadget fits various foot sizes and may also be used on other regions of the body, like the thighs and calves. In addition, it provides a deep kneading foot massage with light heat treatment.
Therefore, giving your grandparents this massager for the new year is a smart choice since they will like it more each time they use it.
Money tree
A charming money tree is said to bring luck and fortune to those who take good care of it. So grandparents, in their retirement, will enjoy the superstitious fun and the much-needed green. Choose from five contemporary pot colors, then deliver them to their door.
Matching aprons
Matching aprons will make time spent in the kitchen with Grandma, Grandpa, and the grandchildren, who enjoy baking and cooking together, even more enjoyable. So, for this striped ensemble, let them pick their favorite color.
Robot vacuum cleaner
Give this present to the grandparents who like maintaining a spotless home. Grandma or Grandpa won't have to move a muscle to clean with the robot vacuum for up to 100 minutes.
They are battery-operated, self-contained cleaners with brushes, replaceable pads, and water reservoirs. Your robot mop will effortlessly clean your dirty floor, reversing when it comes across obstacles and charging itself when its battery is low.
Customized dish towel
There is nothing quite like home… but the residence of Grandma and Grandpa is a close second! With a personalized dish towel in two materials, you can let them know that your affection for them also extends to your household. It's a beautiful way for grandchildren to express gratitude for all the holiday treats they've received.
Artwork photo frame
The ideal Christmas present suggestions for grandparents are unique. What could be more private than your child's artwork? This shockproof image frame opens up like a book to expose up to 50 pieces. Because grandparents would want to brag about their grandchild's creative ability whenever Granny and grandpa have guests, they would love to showcase their grandkid's most recent collection.
Audible membership
It can be challenging to find excellent Christmas gift suggestions for grandparents, especially if they are the type of folks who have everything. However, audible memberships can be the perfect present for you! There are countless audiobooks, films, and podcasts available, so everyone can find something to like.
Framed family tree
Have a lengthy conversation about your family tree with Grandma and Grandpa over a meal. Make notes and personalize your own charmingly framed family tree, which they will treasure and which will aid in teaching the entire family about your history.
Conclusion
These are some of the most thoughtful presents you could give your grandfather this year to let him know how much you value and care about him.
7 Easy Steps to Accessorize Gemstone Jewelry (2022)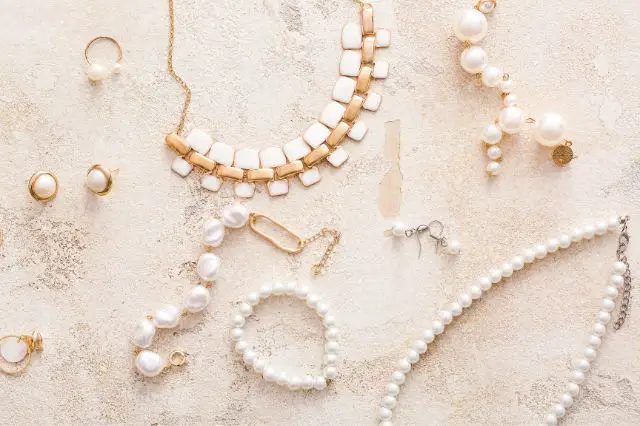 There are a few things to keep in mind when donning gemstone jewelry. These nine suggestions will have a significant impact.
The popularity of gemstone jewelry has seen a rise in the fashion industry, and it shows no signs of slowing down. The year 2022 will see a rise in the popularity of combining seemingly incompatible jewelry styles and even gemstones.
Gemstones add a splash of color and flare to every outfit because of their wide variety of shapes, sizes, and hues. Gemstone jewelry is a wonderful method to broadcast your individual style and preference.
It's about time you gave gemstone jewelry a try, if you haven't already. However, if you're worried about departing from your safe, minimalistic routine, have no fear. Here to help you along the way are the professionals at our company.
Read on for nine suggestions on how to update your gemstone jewelry for the current season.
1. Statement-Making Rings
The trend of wearing minimalist stacking rings has been going strong for several seasons now, and it shows no signs of slowing down. Absolutely no one would complain about the possibility of donning an armful of cherished rings.
So, why not mix up your usual ring rotation with a few delicate gemstone bands? Gemstone jewelry such as tanzanite rings are an excellent way to give your jewelry a unique look and feel.
2. Multiple Long Necklaces Made With Various Gemstones
In case necklaces are your go-to method of blinged-out self-expression, trying your hand at layering can elevate your style to the next level.
For a more understated style, try layering many delicate gold chains with a gemstone pendant. Or, for a more dramatic effect, stack many gold chains with varying gemstone patterns.
Trying to achieve a more novel effect? If you want to show off your wild side in a beautiful way, try stacking a gemstone necklace with a body chain.
3. A Dazzling Gemstone Tiara
In order to make a statement, you should become familiar with unique pieces of jewelry.
These days, it's not uncommon to see a celebrity on the red carpet wearing a sparkling headpiece. In the last month, actress Tommy Dorfmann was spotted at the Met Gala donning a magnificent tiara that is 200 years old.
Although being famous is helpful, it is not required to try anything daring and noticeable. This look may be dressed up or down; simply pin a gemstone brooch in your hair or go all out with a full headpiece. Don't go too far into cultural appropriation, though.
4. Your Own Birthstone
Nothing is more heartwarming or wonderful than a piece of jewelry bearing a person's birthstone. We've kept the birthstones we were given as infants as keepsakes because of their significance.
Maybe you've always wanted to wear diamonds, rubies, or emeralds but were born in a month that didn't allow it (we're looking at you, November topazes!).
Wear a bold necklace or bracelet featuring your birthstone to draw attention to your outfit.
Personalize your own piece of birthstone jewelry by setting it with stones that hold special significance. Moms of all ages love to collect the birthstones of their children and other loved ones.
5. Stunning Stud Earrings
Need to spice up your work attire? The easiest and most stylish way to accessorize is to wear a variety of minimalist studs.
An exquisite approach to add a splash of color without going overboard with the drama is to wear a pair of gemstone studs.
6. Bold Jewelry Pieces
So, you're feeling the statement jewelry scene and want to level up your game? Wear many large gemstone statement jewelry pieces on your neck, ears, wrists, or fingers to show the world the stylish maximalist that you are.
Accessorize your ensembles with stones in a gradient of complementing colors, or try wearing stones at opposing ends of the color wheel.
Now, more is always better; excess is unheard of. In terms of jewelry styles in 2022, the maxim "go big or go home" rings true.
7. Experiment with Different Colors and Shades
Trying out different color and tone combinations with your gemstone jewelry is a certain way to up the ante. The pinnacle of casual chic is a collection of diamonds with complementary undertones.
Numerous gemstones, such as sapphires, rubies, and diamonds, are available to experiment with, and they come in a wide range of colors. Additionally, many others are available in a wide range of ombré color schemes. Citrine and tourmaline are two great options if that's your style.
111 Best No Regrets Quotes to Live Life to the Fullest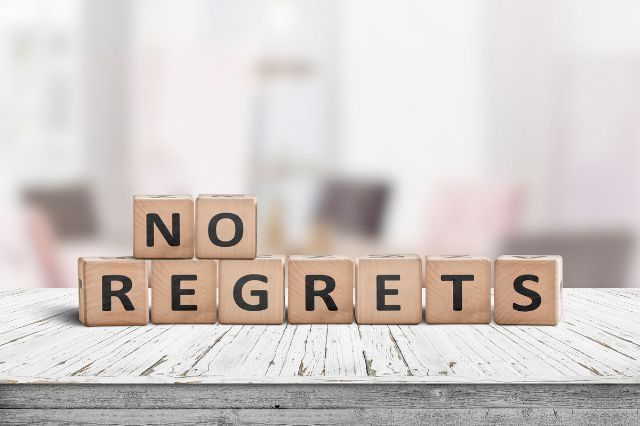 No regrets quotes will help you realize what really matters in life, and reading some never regret quotes from famous people will surely inspire you. When you say no regrets, you say that if you could do things over again, you would not do anything differently.
No regrets quotes show that individuals with this attitude live life to the fullest and never look back, letting the past go quickly. If you have no regrets, then this means you lived life on your terms, reaching for your dreams and being happy with what you have instead of always wishing for more; live life with no regrets quotes will help you reach your destination.
Saying that you have no regrets can show others that you are happy with how your life has gone so far, and you do not wish to do anything differently. Few people can honestly say they have no regrets with a straight face because humans often make mistakes, which can lead to regrets later in life, but the point is these are not regrets but lessons.
Don't look back on something and wish it had gone another way. No regrets quotes will uplift the way you think, change how you live, and transform your whole life. If you're searching for famous no regrets quotes that perfectly capture what you'd like to say or want to feel yourself, just keep reading.
Best No Regrets Quotes All Time
There are no regrets in life, just lessons. You see, everything happens for a good reason. Below no regrets quotes show that everything you go through is just a part of the big plan. Your mistakes are the most valuable life lessons. They shape who you are today, and they prepare you for something more significant in the future. These no regrets sayings will help you to grow in life without any regret.
Be yourself, be pleasant, play hard and have no regret. –Jimmy Buffett
Never look back and regret, look back and smile at what you have learned.
Never regret anything because at some point it was exactly what you wanted.
Never regret yesterday. Life is in you today and you make your tomorrow. –L. Ron Hubbard
I want to live my life so that my nights are not full of regrets. –D. H. Lawrence
Work hard, do your best, live the truth, trust yourself, have some fun…and you'll have no regrets. –Byrd Bagget
I never regret anything. Because every little detail of your life is what made you into who you are in the end. –Drew Barrymore
Never regret anything you have done with a sincere affection; nothing is lost that is born of the heart. –Basil Rathbone
You must never regret what might have been. The past that did not happen is as hidden from us as the future we cannot see. –Richard Martin Stern
Live Life with No Regrets Quotes
If you've made some mistake or made a wrong decision and are looking for some motivation to help you feel better, let these live life with no regrets quotes and sayings serve you as helpful guides. These live life without regrets quotes will help you to grow in life with no regrets.
Make it a rule of life never to regret and never to look back. regret is an appalling waste of energy; you can't build on it; it's only good for wallowing in. –Katherine Mansfield
Life is short, break the rules. Forgive quickly, kiss slowly. Love truly. Laugh uncontrollably and never regret anything that makes you smile. –Mark Twain
Do it right, regret nothing. –Vanna Bonta
Regrets are just expired Dreams. Throw them out. –Kinyo
I already gave my best. I have no regrets at all. –William Hung
Do not waste one moment in regret, for to think feelingly of the mistakes of the past is to re-infect yourself. –Neville Goddard
Choose me with no regrets and I promise I will love you with no limit. –John Clyde
A woman will do any and everything to make her relationship work. That's why she … That's why she almost never regrets it when it's time to walk away.
Live with No Regrets Quotes
Live life without regrets quotes show that if you feel wrong about something, it's because you didn't learn from it. If you start learning from your mistakes, some lesson, you should by no means live with any bad feelings. Below, live with no regrets quotes will help you live life to the fullest and become wiser.
In a world where death is the hunter, my friend, there is no time for regrets or doubts. There is only time for decisions. –Carlos Castaneda
Never regret. If it's good, it's wonderful. If it's bad, it's experience. –Victoria Holt
Do not anxiously expect what is not yet come; do not vainly regret what is already past. –Chinese Proverb
At the end of the day, let there be no excuses, no explanations, no regrets. –Steve Maraboli
If I should die tomorrow, I will have no regrets. I did what I wanted to do. You can't expect more from life. –Bruce Lee
Accept everything about yourself – I mean everything, you are you and that is the beginning and the end – no apologies, no regrets. –Henry A. Kissinger
I don't dwell in the past; I don't wallow in old events and emotions. I don't waste time on regret. No use going over and over the details of what already happened. –Yanni
No regrets. No looking back. Just hold onto life and move forward. We have no way of knowing what lies ahead…and that is what makes the journey even more exciting. –Susan Gale
We should have no regrets. … The past is finished. There is nothing to be gained by going over it. Whatever it gave us in the experiences it brought us was something we had to know. –Rebecca Beard
Accept your past with no regrets, handle your present with confidence, and face your future with no fear.
Sometimes, forgetting is the best gift you can give yourself to let go of your regrets.
Artists love without reservation. They give their hearts completely and leave nothing on the table. They are naked and unashamed. They leave no room for pretension. And because they have given all of themselves, they live without regret. –Erwin Raphael McManus
I Have No Regrets Quotes
We have an obligation to do everything we can with this life we have been given. Life is a gift, and we should go out there and live it to the fullest. So here is a whole bunch of I have no regrets quotes. We hope no regrets in life quotes will be helpful to you and inspire you to go out there and follow your dreams, living the life that will make you truly happy.
I have no regrets in my life. I think that everything happens to you for a reason. The hard times that you go through build character, making you a much stronger person. –Rita Mero
I have no regrets. regret only makes wrinkles. –Sophia Loren
I have no regrets about anything I've ever done. This is the perfect place for me. –Herb Magee
I have no regrets because I know I did my best — all I could do. –Midori Ito
I've no regrets. You take responsibility for your actions. –Ron MMoody
I have no regrets. Regrets are meaningless. You can't change yesterday or tomorrow. You can change only this present moment. –Richey Edwards
I have no regrets. I wouldn't have lived my life the way I did if I was going to worry about what people were going to say. –Ingrid Bergmam
I have no regrets. I don't believe in looking back. What am I proudest of? Working really hard… and achieving as much as I could. –Elena Kagan
I have no regrets about my life. People ask, 'If you had to do it all over again, would you do it differently1?' No. That's speculation. –Chuck Yeager
So at least I could rest my soul knowing I had truly given it my all. And when my future child asks why I stopped pursuing a dream I had had for so many years, I can say with no regret, The love I have for you and your mother is far greater than any dream. –Rico Lamoureux
No Complaints No Regrets Quotes
Inspiration on how to deal with certain situations that come up in life. The same holds for living life with no complaints no regrets quotes. To live life with no complaints is the idea that you should live your life in such a way that you will look back on it and have no regrets. A tall order, but probably something we should all strive for. These quotes about having no regrets will help you to live your dream life.
Life is meant to be experienced. Put yourself out there. Do things you've never done. Live a life where at the end, you will have no regrets.
I regret nothing in my life. Even if my past was full of hurt, I still look back & smile, because it made me who I am today.
I have no regrets, except perhaps one, I should have tried harder to be a better actor. –Joel McCrea
Live with intention. Walk to the edge. Listen hard. Practice wellness. Play with abandon. Laugh. Choose with no regret. Appreciate your friends. Continue to learn. Do what you love. Live as if this is all there is. –Mary Anne Radmacher
I'm living with every step. I can't live with regret. The past is the past. I'm not worried about it. I can't change it. I can't fix it. It is what it is. I'm just living. –Ryan Sheckler
Get correct views of life, and learn to see the world in its true light. It will enable you to live pleasantly, to do good, and, when summoned away, to leave without regret. –Robert E.Lee
Conquering fear today, means no regrets tomorrow. –Aaron Lauritsen
Live your life on purpose with no apologies or regrets. –Angela Cecilia
Life is a balance of hanging on and letting go. In the moment, shut down the mind and let intuition give you the answer. Have no regrets. –Matthew Donnelly
We must each lead a way of life with self-awareness and compassion, to do as much as we can. Then, whatever happens we will have no regrets. –Dalai Lama
Lessons Learned No Regrets Quotes
These quotes on regrets and lessons learned show that you don't need to regretting doing wrong things or making bad choices. Because they are also a vital part in your life to experience and learn. No regrets just lessons learned quotes will help you to look on things in a positive perspective and move on without regret. Keep in mind that there are no regrets in life just lessons.
It's nice to look back on your life and see things as lessons, and not regret. –Rihanna
There are no regrets in life, just lessons. –Jennifer Aniston
Live fast, fight hard, no regrets! –John Cena
No, never regret destroying something written. Some things are best left hidden, especially if they can seriously hurt someone if they are found. –Lynne King
I have no apologies, no regrets. I gave my very best efforts … I've been hung in effigy. I've been spat upon. You just have to let those things bounce off. –William Westmoreland
When we are certain that the way to accomplish our own wishes is to help others, we have no regrets. –Sakyong Mipham
I have no regrets. To regret my past would be to admit I am not satisfied with who or what I have become. Everything I have accomplished and all I have been exposed to – good or evil – has created what sits before you. –Scott Hildreth
Living to give to others, working hard for your dreams and fighting for your dreams are the battles you will never regret no matter how long it takes. –Michael Hutchison
I don't come from a musical family and didn't go to Juilliard or anything, but I had this kind of vision of stuff that was so powerful that I just needed to find it. I have no regrets. –Andy Kim
I enjoy every opportunity and live every moment. And that is why I have no regrets. It's when you are not scared of losing that you win everything. Very often I take cabs to travel during the course of the day because I enjoy talking to cabbies from different parts of India. –Shailender Singh
Famous No Regrets Quotes
There are many things and decisions in life we wish we could just delete. Unfortunately, that is not possible. However, below life without regrets quotes will help you learn how to turn every bad experience or a wrong decision into a lesson. The limits you believe about yourself will melt away with these famous never regret anything in life quotes.
I have no regrets. If I wanted to keep acting, I would have never left the cinema. –Brigitte Bardot
I don't feel a yearning or a sense of missed opportunities. I don't have many regrets. So that's a nice feeling. To have no regrets and still have enough sense of adventure to take on risk. –Michael J. Fox
But the first thing that we have to do is to say, I walk towards the tunnel, and I'm on my own, and I'm not afraid. And I have no regrets. –Jonathan Bowden
I have no regrets. I have not one single regret. I was born with a wonderful DNA where I felt that my life was not a race against someone else or another artist. It was probably internal. –Andy Kim
You must not procrastinate. Rather, you should make preparations so that even if you did die tonight, you would have no regrets. If you develop an appreciation for the uncertainty and imminence of death, your sense of the importance of using your time wisely will get stronger and stronger. –Dalai Lama
The most important decision I ever made in my career was to live my life in sports as honestly and ethically as possible. Never having compromised my values allows me to look back on my life with no regrets and feel satisfaction in what I was able to accomplish. –Greg LeMond
No amount of regret can change the past. No amount of anxiety can change the future. –Karen Salmansohn
I have no regret about making 'Heroine'; rather, I am happy I made it. I never shun my films; I stick to it. –Madhur Bhandarkar
The superior man accords with the course of the Mean. Though he may be all unknown, unregarded by the world, he feels no regret – It is only the sage who is able for this. –Confucius
No Regrets Quotes on Love
Live with no excuses, love with no regrets. These no regrets quotes on love show that love truly and never regrets anything that made you feel special because it was exactly what you wanted at one time; it would be what you dreamed for in the past. So be yourself and love with no regrets. These, I have no regrets loving you quotes will help you to enjoy life to the fullest.
Sometimes all you need is one person that shows you that it's okay to let your guard down, be yourself, and love with no regrets.
I don't regret loving you. I don't regret trusting you. I regret giving you the power to hurt me in a way that I'll never be able to find again. –Abhishek Tiwari
Live with no excuses and love with no regrets. –Montel
I have no regrets. I will never regret loving someone because the feeling of love for five minutes is greater than an eternity of hurt. –Kurt Langner
I begin with songs. They provide a sort of skeleton grammar for me to flesh out. Songs of longing for future tense, songs of regret for past tense, and songs of love for present tense. –Mary Doria Russell
No regrets, just love. We can dance until we die. You and I, we'll be young forever! –Katy Perry
A wish for a future no longer tainted by the past. A future that held joy, not regret. A future that offered love instead of loneliness.
No Regrets Quotes on Choice
Every day life is full of choices, big or small. Later, you may feel glad for correct choices made, but sometime you may feel bad for wrong choices. In such cases, you are advised to read some never regret your choices quotes. They'll make you re-think about it.
My dear, with your love I can calmly face my impending trial, having no regrets about the choices I've made and optimistically awaiting tomorrow. –Liu Xiaobo
The path that I chose was simple – it was the exact path I should've taken, and I have no regret at all. –Kendra Wilkinson
But when it comes to life or love, I choose life. I'm here right now, ready to live and love another day. I could never regret that. I'm glad you didn't love me. You gave me my life by doing so. –Karina Halle
My goal in life is to make decisions that minimize regrets. I don't regret anything I've done. –Jake Pavelka
First, imagine taking the potential regret – producing a path of inaction. Then imagine what the very best outcome would be were you to take this risk. By picturing both scenarios in advance, you can avoid the regret of what might have been. –Wayne Dyer
Regrets only apply when we don't learn from a situation. No sense looking back, looking forward with new knowledge and no regret. –Catherine Pulsifer
Had we not pursued the hydrogen bomb, there is a very real threat that we would now all be speaking Russian. I have no regrets.
I have no regrets about anything that I've ever done, about whom I've been involved with, so forth and so on.
I'm not gonna try to defend, or undo what's been done. All I could say about whatever's been done, it's been done, and it's water under the bridge. I have no regrets in my life.
It has been a wonderful life for me. It's just been a blessing. I can't say I would have done it any other way. I have no regrets. I like what I do. –Ron Shock
Moving On with No Regrets Quotes
Each day is a second chance to make a change for the better, and we should use this opportunity to express ourselves in a more positive manner to move forward. On this note, we have compiled some moving on with no regrets quotes. These do not regret quotes will help you a lot to move on in your life.
I do not think I am successful just because I have money. I'm successful because I love who I am and I have no regrets, and I'm successful because I have a great heart and I have compassion and I care and I would be happy with or without. Money. –Suze Orman
I just play the game the only way I know. And I have no regret. –Manu Ginobili
I go for my shots with no regrets, even if I play to the fence. –Garbine Muguruza
I never really thought of myself as a captain. I always thought of myself as a guy trying to win games, a guy who could look back and have no regret. –Clint Dempse
I have to say that I have no regrets about my decision to become a priest or about the major directions my ministry has taken me… I have been and am happy as a priest, and I have never been lonely… I could have used a bit more solitude. –Andrew GGrGreeley I
I had a great tennis career. I have no regrets. But to find peace with yourself, and to finally be with your family – I'm probably the happiest guy in the world. –Bjorn Borg
I have no regrets about launching Salon. For the life of me, I can't imagine doing anything else. –David Talbot
The truth is, I'm proud of the life I've lived so far, and though I've made my share of mistakes, I have no regrets. –Carly Fiorina
I have no regrets about doing 'strictly'. This is the biggest achievement of my life. –Caroline Flack
My Favorite No Regrets Quotes
Our mistakes are a part of who we are. Instead of dwelling on them, you can use them to make better choices in the future. But, where to start? To help you with that, we've selected some of the best no regrets quotes and sayings. Use these never regret quotes as a source of inspiration and encouragement. It will help you accept your mistakes, move on, and learn how to lead a life without regrets.
I have no regrets about being 'doctor who'. It was the greatest thing that ever happened to a member. –Tom Baker
God gave me a very good hand to play over my 88 years. I have no regrets. –Ed Koch
I have no regrets about not having children. I still wait for the pang of guilt, but I have none. I tune into the television show 'Nanny 911' occasionally which reminds me how much patience and love it takes to be a good parent. –Amanda Donohoe
My world has been quite rich in my life, and I've been happy. I've no regret. –Alexis Wrigh
I am fortunate: my parents told me the world was my oyster, when they could have said I wouldn't make it for a lot of reasons – rural, girl, small African country. So, no regrets. –Dambisa Moyo
I'm not paralyzed with fear, but I realize it is important to live as if there's no tomorrow, always trying to maintain your integrity and have no regrets. –Sissy Spacek
I was raised by my mom, pretty much, and she just had this very non-judgmental attitude, having no shame about yourself, no regrets, just trusting your gut and your instinct, and treating yourself with respect. –Lily Collins
After marriage, every woman wants to settle down and have children. I have no regrets. I was occupied in my little world, enjoying each and every experience that came my way. –Sridevi
I leave this life with no regrets. It was a wonderful life – full and complete with the great loves and great endeavors that make it worth living. –Charles Krauthammer
More No Regrets Quotes and Sayings
At different points in your life, you will indeed feel wrong about something you did, or even worse, something you didn't. However, these no regrets sayings will help you learn how to move on and use the experience to create a brighter future for yourself. So read no regrets quotes, and go out to do everything you need with your life.
Sooner or later, the time comes when a man has to think about his health. I had a really long and great career, and I believe I left a deep mark in the martial arts. I have no regrets. –Mirko Cro Cop
One day, perhaps, you will see for you regrets as nothing. The value lies in how they answer. –Steven Erikson
I made a lot of wrong decisions, and got talked into a lot of things. Of course, if I could go back in time, I might change some things, but wouldn't everyone? I have no regrets. –Rebecca Loos
I have no regrets about my career or retiring. Not once have I thought 'Gosh, I wish I was back on the court. –Rebecca Lobo
One of my mottos not only just in skating but in life in general and I try to enforce it as well, is like no regrets and just like going for it. –Kristi YYamaguchi
Do not brood over your past mistakes and failures as this will only fill your mind with grief, regret and depression. Do not repeat them in the future. –Swami Sivananda.
I suppose that I have not many months to live: but of course I know nothing about it. I may add that I am enjoying existence as much as ever, and regret nothing. –Henry David TThoreau
When it is time to part, then it is time to part. There should be no regrets. The beauty of marriage is like the fleeting perfection of a snowflake. –Ming-Dao Deng
Final Thoughts on No Regrets Quotes
All of us want to love life and live without regrets, but it's not always easy. Everyone makes mistakes, and it's part of our life; the best we can do is, enjoy our mistakes, learn lessons from our mistakes and live with no regrets.
If you don't want to miss out on doing new things or taking chances in life, you have to read these never regret quotes that will give you a motivation to improve your life. You dared to live; just because the outcome wasn't the one you fantasized about doesn't mean life is trying to punish you for pursuing your desires, so you need to go through these no regrets quotes to inspire yourself.
If you have made a mistake, listen to your heart and enjoy what you did, that's the formula of a happy life; read these live life with no regrets quotes to enjoy what you have done. And please spread these no regrets quotes to others through your social media.