158 Fitness Quotes to Inspire You Break Out of Comfort Zone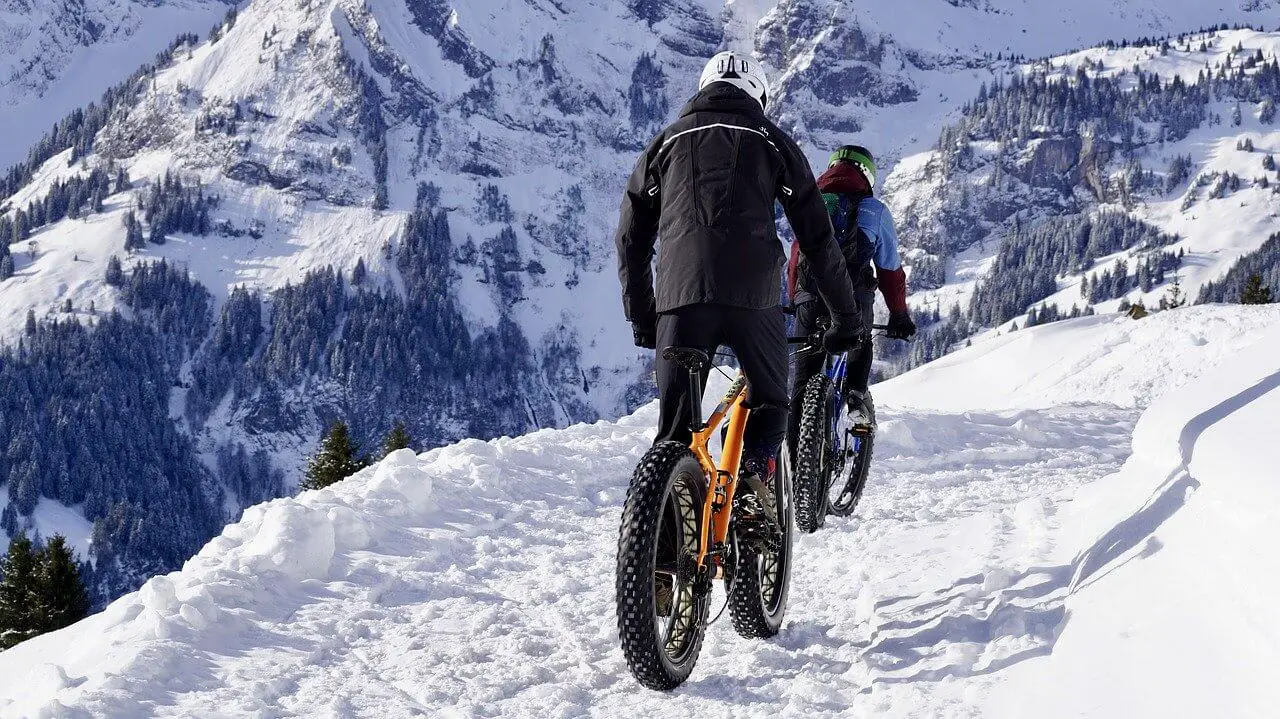 Are you looking for fitness and gym motivation quotes for breaking out of comfort zone? Then you are landing the right place of fitness quotes.
You need some great fitness quotes to get those muscles pumping and that blood running!
Fitness is not about how bad you want it; it's about how hard you are working for it.
Winners never quit, and quitters never win! Work until your idols become your rivals! Everyone wants to become a bodybuilder, but no one wants to hold heavy weights.
According to researchers, it is proven that gyming helps your brain health come to a state of peace and has a good physical health impact! It will keep you away from seeing doctors. Our collection of workout quotes and gym quotes will definitely give you some inspiration, especially if you are a new beginner for body building.
These motivational fitness quotes can help you get in the mood to get started with those dumbbells!
Dive in to full list of 158 fitness quotes get inspired.
Funny Fitness Quotes and Sayings
If you haven't given it your best shot, you can't be upset about the failure. You have to step out of your comfort zone and need to hustle for that muscle.
No pain to the body means no gain. Your future is created by what you do today, not tomorrow. Even if you are tired, take a rest but don't quit. Every workout counts.
Work on big with these funny fitness quotes! Have some fun.
I love my six-pack so much. I protect it with a layer of fat.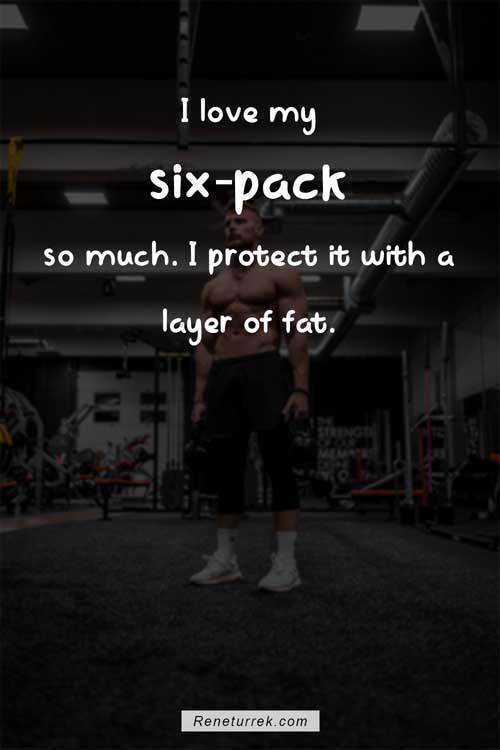 I always say, "Eat clean, stay fit, and have a burger to stay sane". – Gigi Hadid
Unless you puke, faint or die, keep going! –Jillian Michaels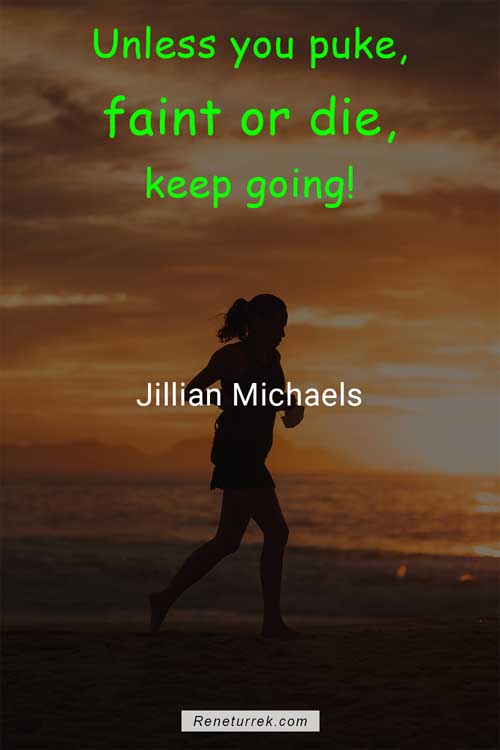 Fitness is like a relationship. You can't cheat and expect it to work.
I run entirely on caffeine, sarcasm, lifting weights, and inappropriate thoughts.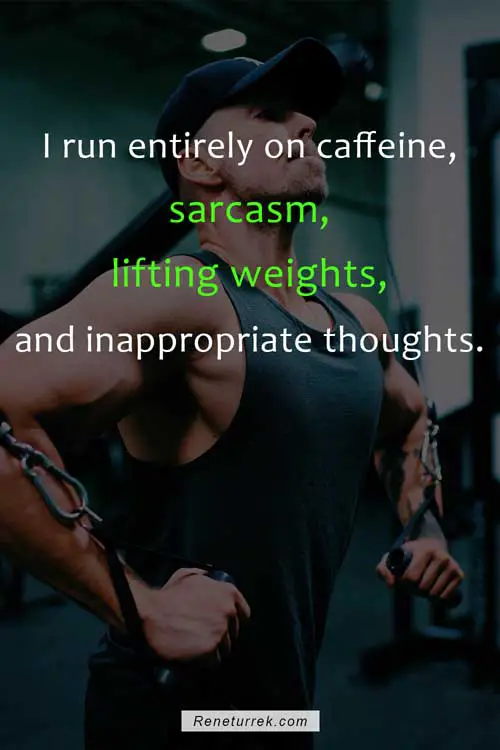 Run like there is a hot boy in front of you and a creepy one behind you.
Exercise is like telling your body, "You gonna hate me for this, but you'll thank me later.
I am not gonna break up with my gym. We seem to work out.
My workout may contain graphic material, like working out, lifting weights, and pushing myself to my limits. Viewer discretion advised.
Keep your squats low and your standards high.
When you have one of those days when you feel a big weight on your shoulders, do squats.
Take care of your body. It's the only place you have to live in. – Rim John
Excuses don't kill the fat, exercises do.
I have to exercise early in the morning before my brain figures out what I am doing.
Take the admission to the gym to avoid admission to the hospital.
Short Fitness Quotes for Body Transformation
Shorte fitess quotes is easy to remember. You have to believe in yourself that you can do it!
The pain is temporary, but the pride lives forever. Your future will thank you for doing something today. Losing is harder than winning! These body transformation quotes will give you a push.
No pain, no gain. Shut up and train.
Put all excuses aside and remember this: You are capable. –ZigZiglar
Sweat is fat crying.
Making excuses burns zero calories per hour.
The real workout starts when you want to stop. –Ronnie Coleman
Stimulate don't annihilate. – Lee Haney
When my body 'shouts' STOP, my mind 'screams' NEVER
You have to hate losing more than you love winning.
When you hit failure, your workout has just begun. – Ronnie Coleman
Pain is just weakness leaving the body.
Six-packs in Progress.
Exercise now and make your life better.
Fitness is like a relationship. You can't cheat and expect it to work.
Fitness Motivation Quotes When Doing Exercise
Fitness motivation quotes is a good way to inspire yourself when doing excecise.
"The best thing I can be is just like everyone else." We start growing old when we stop exercising.
There are no limits to anything. Respect your body and take out time for yourself. You have to make things work and shock everybody. Gym motivation status will let you know only one person can change your life with fresh start, and that is you!
I hated every minute of training, but I said, 'I won't quit. Suffer now and live the rest of your life as a champion.' – Muhammad Ali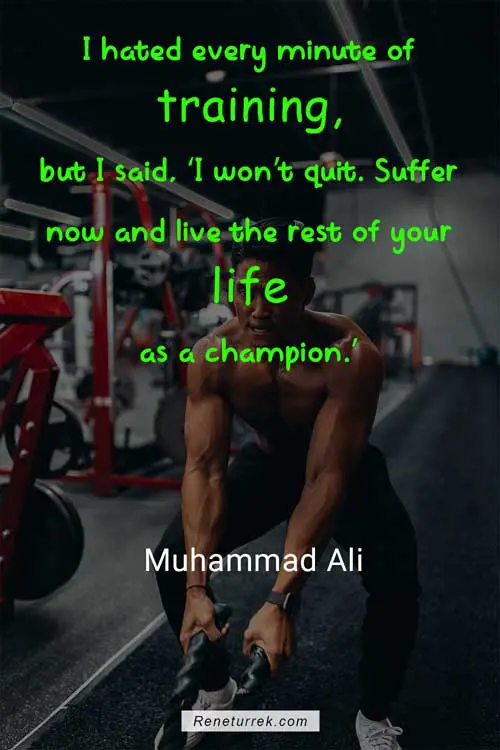 A lot of times, people look at the negative side of what they can't do. I always look at the positive side of what I can do. – Chuck Noris
The hard days are what make you stronger. – Aly Raisman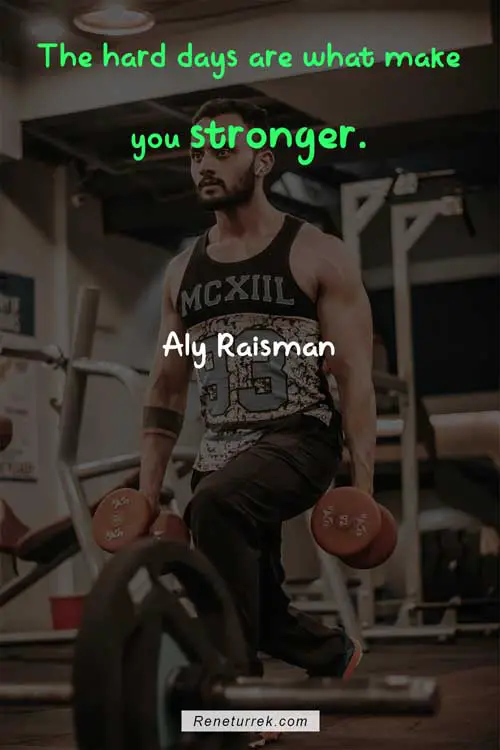 On good days, work out. On bad days, work out harder.
A muscle is like a car. If you want it run well early in the morning, you have to warm it up. – Florence Griffith Joyner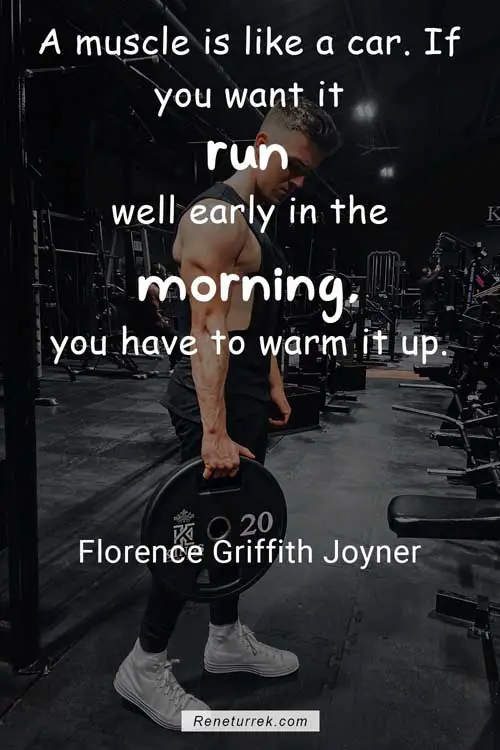 Ability is what you're capable of doing. Motivation determines what you do. Attitude determines how well you do it. – Lou Holtz
Slow progress is better than no progress.
Winning and losing isn't everything; sometimes, the journey is just as important as the outcome. – Alex Morgan
Motivation is what gets you started. Habit is what keeps you going. – Jim Ryun
Exercise is a celebration of what the body can do, not a punishment for what you ate.
If you get tired, learn to rest not to quit.
The best feeling in the world is a hard workout, a shower, and a protein shake. – Mikro Cro Cop
An early morning walk is a blessing for the whole day. – Henry David Thoreau
Positive Fitness Quotes All Time
Positive fitness quotes is perfect reminder that fitness is all about being better than what you used to be. You don't have to compare yourself to others. It's all about motivation and setting goals!
Fitness soon becomes an addiction when you see the results. When you go to the gym, you get inspired, you make new friends and socialize.
A one-hour workout is 4% of your day. No excuses.
Exercise is king. Nutrition is queen. Put them together and you've got a kingdom. –Jack LaLanne
Today I will do what others won't, so tomorrow I can accomplish what others can't. –Jerry Rice
Tactics, fitness, stroke ability, adaptability, experience, and sportsmanship are all necessary for winning. –Fred Perry
A little progress each day adds up to big results.
The best investment you make is your own health.
Some quit because progress is too slow; never really grasping the fact that slow progress is still progress.
If you don't make time for exercise, you'll probably have to make time for illness. –Robin Sharma
Strength does not come from physical capacity. It comes from an indomitable will. – Mahatma Gandhi
Even if you lose ½ a pound a week, you still lose 26 pounds by this time next year. Just keep going.
Success isn't given. It's earned. In the kitchen, in the Gym, in the workout, All Day. With blood, sweat, and the occasional tear.
Find fitness with fun dancing. It is fun and makes you forget about the dreaded exercise. –Paula Abdul
Fitness Quotes for Daily Workout 
Daily workout is hard, you need some fitness quotes and motivational fitness sayingsto keep you move forward. Winners don't make excuses. There are no weekends off when you are chasing your goals.
"Success doesn't come from what you do occasionally; it comes from what you do consistently!"- Marie Forleo
Let your weekend gains begin. Work like someone is working twenty-four hours a day to take it away from you. Stay positive, work hard, and make it happen.
Today I will do what others won't, so tomorrow I can do what others can't. – Jerry Rice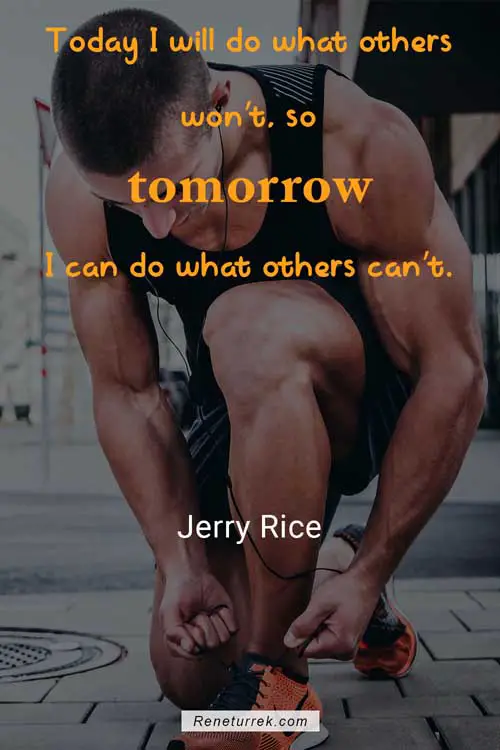 Don't stop just because it's Saturday.
You can never expect to succeed if you only put in work on the days you feel like it.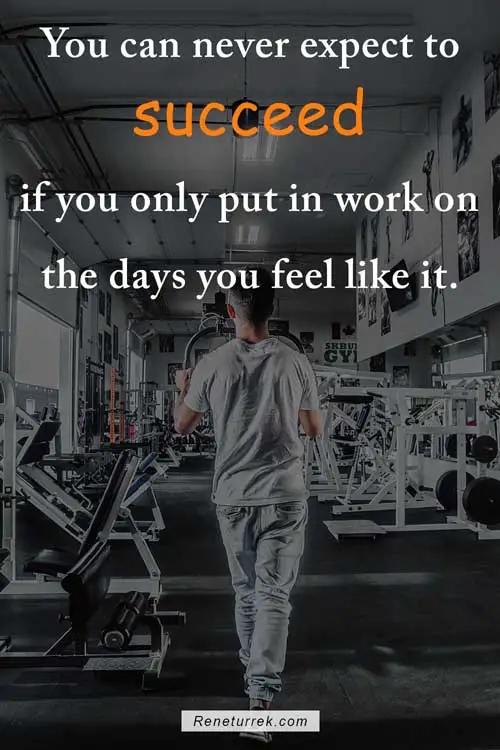 You are only one workout away from a good mood.
Your body doesn't know it's the weekend.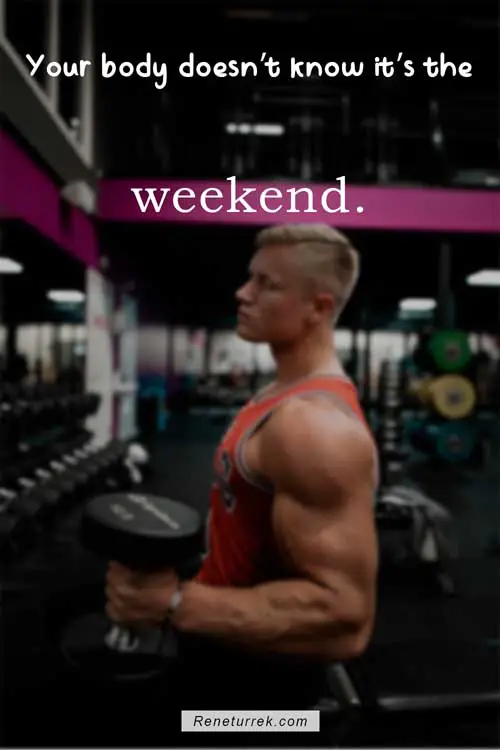 Sweat it out Saturday.
Happy Friday to those who work out and slay like its Monday.
I will not erase all my hard work this week because it's the weekend.
Champions keep playing until they get it right. – Billie Jean King
There are no weekends off when you're chasing your goals.
You need a strong end to the week, not a weak end.
Fitness Quotes for Women Who Need a Push
These female fitness quotes will inspire women to do their best. Don't be lazy, let the fitness quotes for women boost your excercising.
"I will" are the most powerful words to make things happen. Be the hardest worker in the room. You only get what you work for and not for what you wish.
When you have passion, you achieve every goal. It hurts now, but one day it will be your warm-up!
Hope these workout quotes for women can give you a push.
Push harder than yesterday if you want a different tomorrow.
Strong girls never skip leg days.
The more you work out, the weaker his knees get.
Strength does not come from what you can do. It comes from overcoming the things
you once thought you couldn't. – Ashley Greene
I will make sweat my best accessory. I will run harder than my mascara.
Fitness is not about being better than someone else. It's about being better than you used to be. – Khloe Kardashian
Lifting weight does not make women huge. Eating cupcakes make women huge.
Look like a beauty. Lift like a beast.
I am not strong for a girl. I am just strong.
A woman with a fit physique is more than just a hot body. It shows she works hard, no money can buy it.
I will train harder. I will eat clean. I know her weaknesses. I know her strengths. I have lost her before. But not this time. She is going down. I have the advantage because I know her well. She is old me.
If the sun comes up, I have a chance. – Venus Williams.
Ladies If your man wants you to be in the gym with him, he wants to build with you, not change you.
Fitness Quotes for Man Who Wants to Be Stronger
The gym quotes for men will make you put in the hard work to stay fit as natural as sleeping, eating, and breathing.
Finding workout motivation quotes will keep you apart with distractions, so you can fulfill your full fitness potential. 
Success starts with self-discipline.
The pain you feel today will be the strength you feel tomorrow. –Arnold Schwarzenegger
Don't count the days, make the days count. –Muhammad Ali
Your health account, your bank account, they're the same thing. The more you put in, the more you can take out. –Jack LaLanne
I think exercise tests us in so many ways, our skills, our hearts, our ability to bounce back after setbacks. This is the inner beauty of sports and competition, and it can serve us all well as adult athletes. –Peggy Fleming
All progress takes place outside your comfort zone.
Your struggles develop your strengths. When you go through hardships and decide not to surrender, that is strength. –Arnold Schwarzenegger
Wake up with determination. Go to bed with satisfaction.
Never give up on a dream just because of the time it will take to accomplish it. The time will pass anyway. –Earl Nightingale
You can be fit without being healthy, but you can't be healthy without being fit.  Meaning… you can be in great shape on the outside, but if you don't eat great and don't take care of your insides, you aren't necessarily healthy. History shows us there were plenty of athletes who were in great shape but suddenly died of a heart attack.  Balance is key. – Jesse Itzler
Just like in bodybuilding, failure is also a necessary experience for growth in our own lives, for if we're never tested to our limits, how will we know how strong we really are? How will we ever grow? – Arnold Schwarzenegger
Everybody wants to be a bodybuilder, but nobody wants to lift no heavy-ass weights. –Ronnie Coleman
Fitness Quotes by Famous Athletes
You can't climb the ladder of your success with your hands in your pocket. You have to create will power; it's never found.
Inspirational workout quotes from famous athletes to motivate you to be champion, you must act like a champion.
Your body tells itself to work harder than yesterday. Compare yourself to what you were before. You become trained. It becomes a passion, and you keep working with best gym caption.
If you have a body, you are an athlete. – Bill Bowerman
Always keep in mind that sometimes the smallest step in the right direction ends up being the biggest step of your life. – Paige Hathaway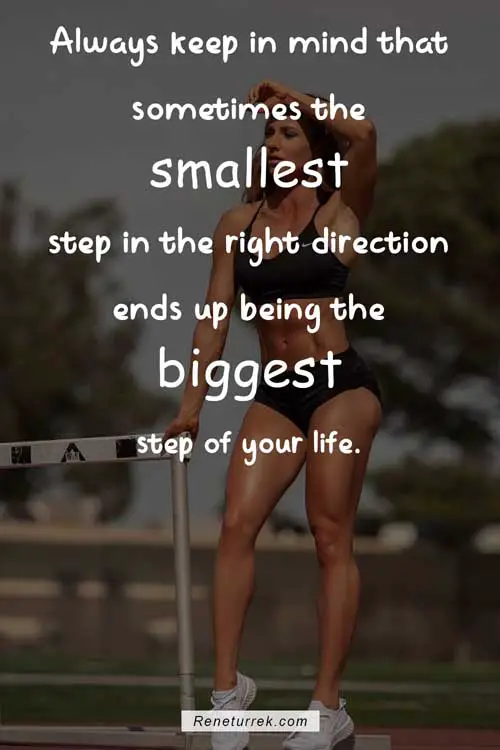 If you think you're perfect already, then you never will be. – Christiano Ronaldo
I don't count my sit-ups. I only start counting when it starts hurting because they're the only ones that count. – Muhammad Ali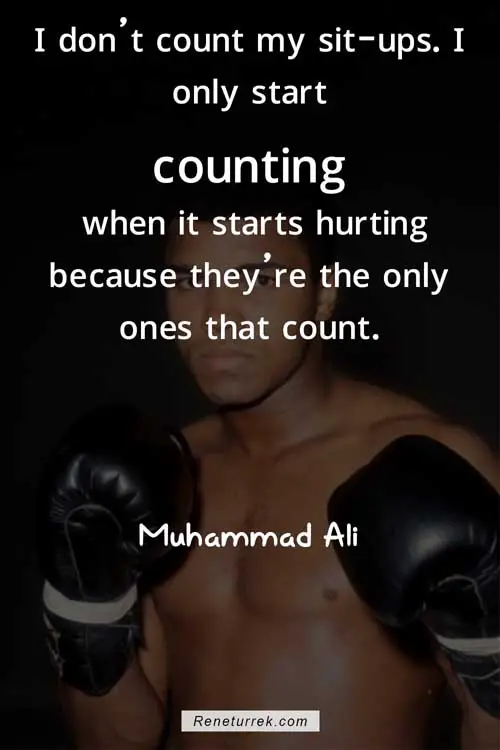 There is no way around hard work. Embrace it. – Roger Federer
Going in one more round when you don't think you can, that's what makes the difference in your life. – Sly Stallone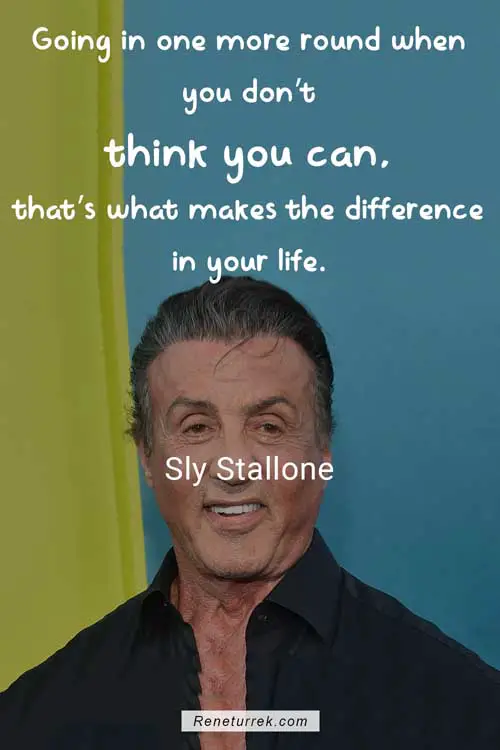 Going to the gym is great for your body, but it's also great for your mind. – Rory Mcilroy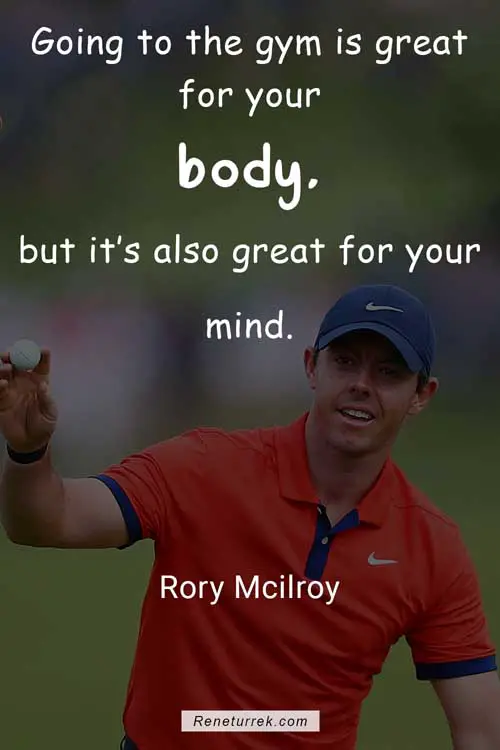 Some people like going to the pub; I enjoy going gym. – Frank Bruno
I can't relate to lazy people. We don't speak the same language. I don't understand you. I don't want to understand you. – Kobe Byrant
Keep working even when no one is watching. – Alex Morgan
The more you sweat in peace, the less will you bleed in war. – Mariel Zagunis
Somebody may beat me, but they are going to have to bleed to do it. – Steve Prefontaine
Running has taught me perhaps more than anything else, that there's no reason to fear the starting lines or other new beginnings. – Amby Burfoot
Every day, we've got to do something physical. It's mind, body, and spirit. – Ray Lewis
You can have all the talent in the world, but it takes a special person with the right attitude to succeed. – Brenda Martinez
Obstacles don't have to stop you. If you run into a wall, don't turn around and give up. Figure out how to climb it, go through it, or work around it. – Michael Jordan
Fitness Quotes on Health to Motivate You
Gyming is excellent for your muscles and bones. It helps to lose the extra fat and makes you feel happier. Health and fitness quotes will let you know that your body will reward you after long time workout.
Furthermore, it reduces the risk of chronic diseases, like heart attack, raised blood pressure, cancer, and boosts energy levels.
"Train like an athlete, eat like a nutritionist, sleep like a baby, win like a champion!" Good health results in happiness which comes from your gym status!
You have time, skill, knowledge, support, will power, and discipline to get things to work. Take motivational exercise quotes right now.
Exercise to stimulate, not to annihilate. The world wasn't formed in a day, and neither were we. Set small goals and build upon them. –Lee Haney
To enjoy the glow of good health, you must exercise. – Gene Tunney
Bodybuilding isn't 90 minutes in the gym. It's a lifestyle. –Lee Priest
Small disciplines repeated with consistency every day lead to great achievements. – John Maxwell
Exercise is a celebration of what your body can do. Not a punishment for what you ate.
Work out. Eat well. Be patient. Your body will reward you.
Make eating fruits and vegetables a priority — this is so simple and beneficial, yet most people don't do it. –Nia Shanks
He who has health has hope and he who has hope has everything. –Arabian Proverb
True enjoyment comes from activity of the mind and exercise of the body; the two are ever united. –Wilhelm Von Humboldt
For me, exercise is more than just physical – it's therapeutic.
Planning to workout someday? There are seven days a week, SOMEDAY is not one of them!
A fit, healthy body—that is the best fashion statement. –Jess C. Scott
Good health is not something we can buy. However, it can be an extremely valuable saving account. –Anne Wilson schaef
Best Fitness Quotes to Read When Doing Gym
Best fitness quotes to remind you take care of your mind, spirit, and body. When someone is mean, don't listen to them. When someone is rude, simply walk away.
Stay firm when someone tries to put you down by reading these workout captions. Don't destroy your inner peace because of someone's bad behaviors. The best revenge is no revenge. Stay silent. Let success make the noise.
The last three or four reps are what makes the muscle grow. This area of pain divides a champion from someone who is not a champion. –Arnold Schwarzenegger
Push yourself because no one else is going to do it for you.
We must train hard. It's not about denying a weakness may exist but about denying its right to persist. –Vince Mccoonneell
Bodybuilding is much like any other sport. To be successful, you must dedicate yourself 100% to your training, diet, and mental approach. –Arnold Schwarzenegger
Exercise should be regarded as a tribute to the heart. –Gene Tunney
Once you control your mind you can conquer your body
I don't do this to be healthy, I do this to get big muscles. –Markus Ruhl
I don't diet and exercise. I eat and train. –J.R. Rim
For me, fitness is not just about hitting the gym; it is also about inner happiness and overall well-being.
No excuse is stronger than you.
Nothing lifts me out of a bad mood better than a hard workout on my treadmill. It never fails. Exercise is nothing short of a miracle. –Cher
It's not about perfect. It's about effort. And when you bring that effort every single day, that's where transformation happens. That's how change occurs. – Jillian Michaels
Starve your distractions feed your focus.
Inspirational Fitness Quotes for Family Workout
It's fun working out with family and friends. Alone you feel quite bored, and there are still things stuck to your mind that you keep thinking about.
Doing famliy workout with inspirational fitness quotes, it will be a motivation for all your family members, your children and spouse.
"Being negative and lazy is a disease that leads to pain, hardships, depression, poor health, and failure. Be proactive and give a damn to achieve success!"— Phil Heath
Challenge is the fruit of life. It's an opportunity, and you have to grind yourself to achieve your goals!
The first great gift we can bestow on others is a good example. – Thomas Morell.
Happy healthy parents make happy healthy children.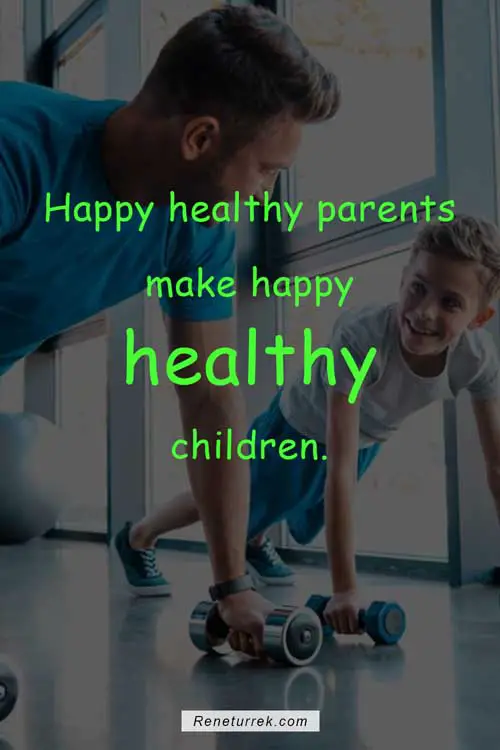 Individually we are each color, together we make a rainbow.
Workout with your kids. They're not excuses, they're sponges. Lead by example.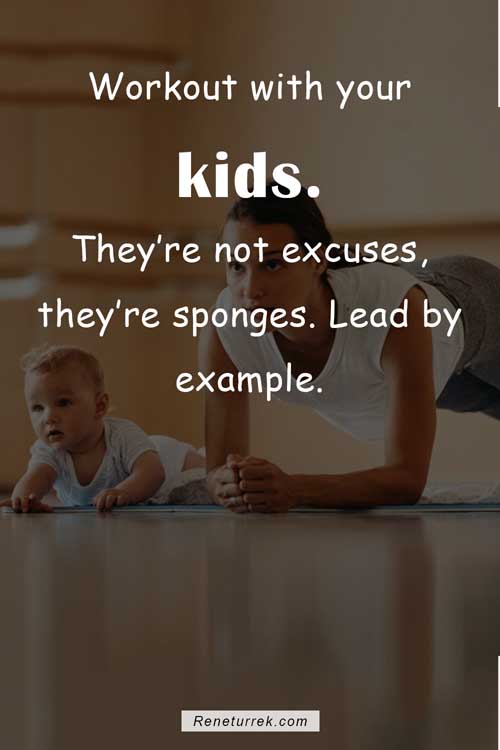 I believe that the best gift you can give to your family and the world is a healthy you. – Joyce Meyer
Kids do what they see you doing. So make sure they are seeing you do something  awesome.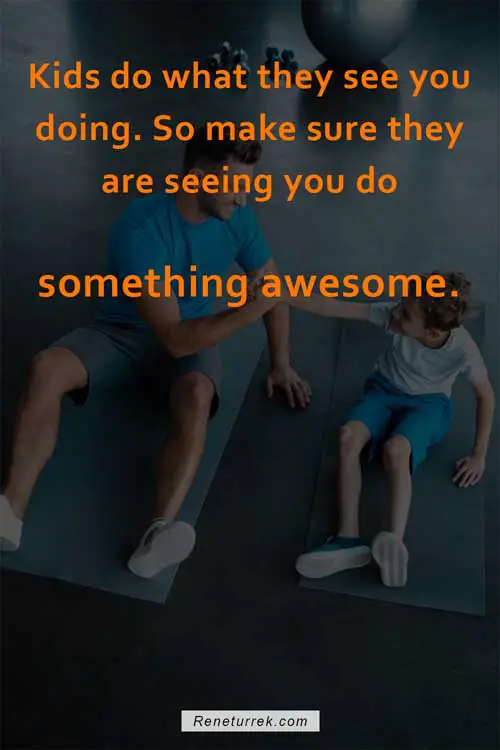 Children see, children do, so live a healthy life.
Couples who work out together are happy couples.
A workout buddy will add the dimension of fun to your workout.
The secret to raising active kids is to be an active parent.
Family, nature, and health all go together.
Metal Fitness Quotes That Also Matters
Here are collections of metal fitness quotes.
Mental peace is a much-needed requirement of your body. You can never please all sides. Your best effort should be to work on yourself.
Rise and shine! Relax your mind. Get some fresh air and breathe in. Learn patience to gain prosperity! Don't overthink about useless people.
Their job is to put you down. Just ignore and move toward success. Mental fitness comes from staying close to nature. Jog in the morning.
Take frequent walks in the parks. Adopt habits of deep breathing and eating healthy, have plenty of water! If you are disturbed mentally, it will reflect on your face. Meditate, and stay happy.
What mental health needs are more sunlight, more candor, more unashamed conversations. – Glen Close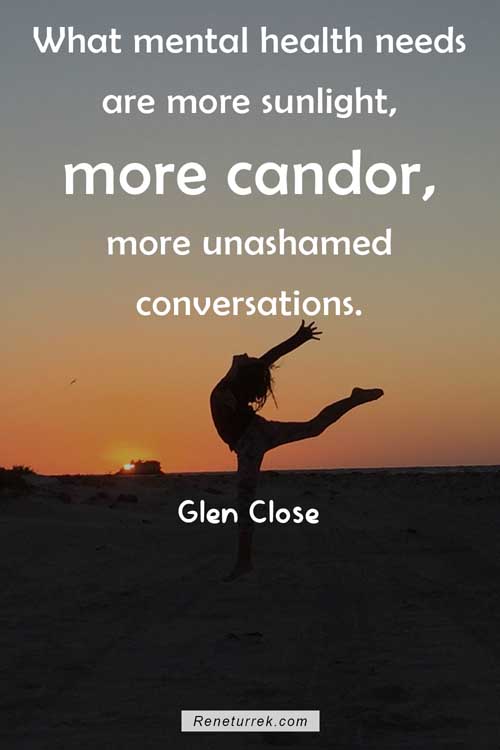 Your mental health is a priority. Your happiness is an essential. Your self-care is a necessity.
To change your body, you must change your mind first.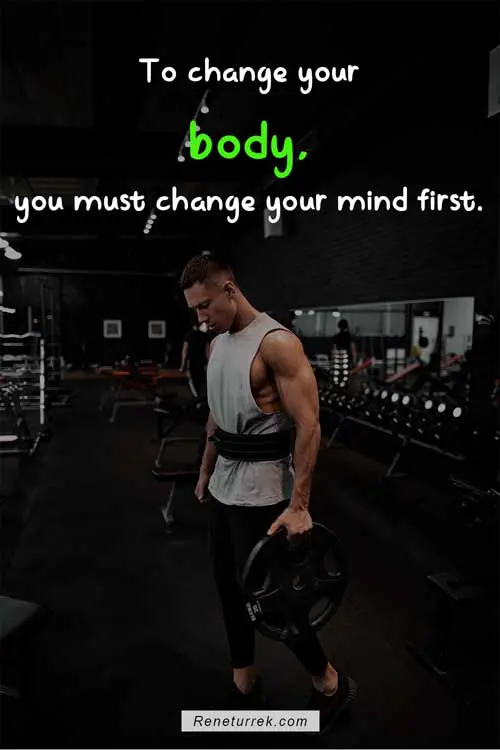 Your fitness is 100% mental. Your body won't go where your mind doesn't push it.
Your body can stand almost everything. It's your mind that you have to convince.
Never underestimate the importance of being strong. Both physically and mentally.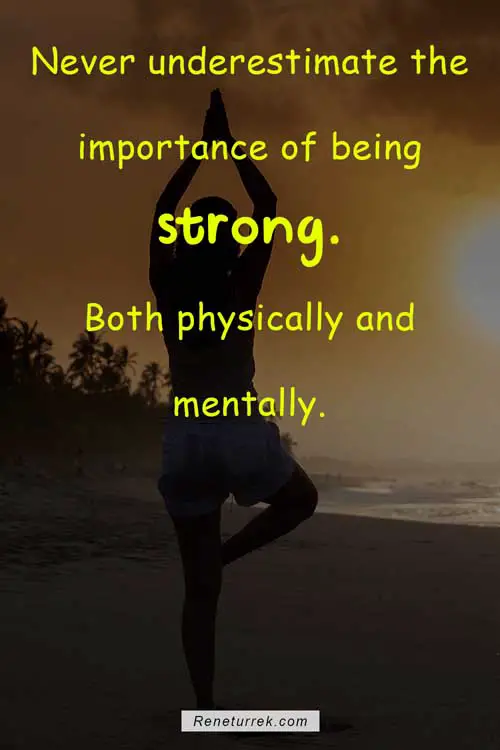 The hard part is not getting your body into shape; the hard part is getting your mind into shape.
Mental health is not a destination but a process. It's about how you drive, not where you're going.
What mental health needs are more sunlight, more candor, more unashamed conversations. –Glen Close
There is no shame in taking medication for your mental health. Do whatever it takes.
Health isn't just about what you eat. It is about what you are thinking and feeling too.
The mind is the most important part of achieving any fitness goal. Mental change always comes before physical change. – Matt McGorry
Mental toughness is like finding fuel in an empty tank. –Kent Morris
Your mental ability is your greatest asset.
Final Thoughts on Fitness Quotes and Sayings
Which fitness quotes is your most favorite one?
Live and conquer. Bring self-discipline and do hard work to become famous! Gym and the resistance that you fight in life can only build a strong character. Fewer words, more action!
Thinking about the past will get you depressed. Thinking about the future will make you anxious, so just live in the present.
You either control your mind, or it controls you! As soon as we make inner peace in ourselves, we will make peace in the world. Love and forgive, along with being united and supportive.
Keep your spirits high and anytime you don't feel like it, read through these motivational bodybuilding quotes to get inspired!
Do not just reading fitness quotes, sharing with more friends and take action.
Happy Gyming!
Sweat It Out with These 5 Easy Exercises You Can Do at Home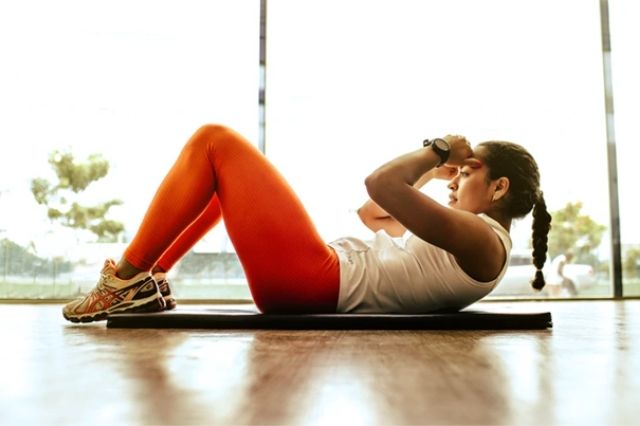 Due to the lockdown protocols around the globe, many fitness centers paused operations indefinitely. Some, unfortunately, permanently ceased operations. This closure affected several people, especially those whose everyday routine includes going to the gym.
Being confined in our homes left many people feeling anxious and distressed. As social beings, humans innately need interaction. This pandemic limited our face-to-face interaction and communication and even separated us from our loved ones.
Exercise is a widely known coping mechanism. It triggers the body to release happy hormones called endorphins, explaining the better mood and feel post-workout. Moreover, it helps strengthen the immune system to combat illnesses. Sedentary people and those with comorbidities are at greater risk of catching infectious diseases. They are also likely to develop severe symptoms and complications compared to their active counterparts. Having moderate physical activity, such as walking at least 30 minutes per day, is the general recommendation. Exercises coupled with healthy meals and sufficient rest provide multiple health benefits. You can include taking a histamine supplement in your diet in order to boost your immune system. You can easily incorporate it into your everyday routine.
To combat the adverse effects of quarantine and isolation and help strengthen the immune system against diseases (especially COVID!), we've curated a list of different exercises you can try at home.
Bonus: We've also included exercise regression and progression so you can still perform these, whatever your fitness level!
1) Squats
Although squats are a basic functional human movement pattern, not everyone may be able to perform it. Conditions such as injuries or limited mobility may be a limitation. One's form will vary from person to person due to individual differences such as torso length, lower body mobility, and anatomical structure. The general rule is the feet be shoulder-width apart with the torso upright during the initial and final movement. During the descent, knees and hips must bend simultaneously, with the hips at least parallel to knee level in the lowest depth.
You can use a chair or box and adjust the height according to the depth you're comfortable with. It can be a great exercise for teaching the squat. Slowly lower the height until comfortable squatting below parallel.
Intermediate: Air Squats or Pause Squats
Perform the movement at full depth. You can also pause at the bottom position to remove the bounce. You may extend your arms forward to help with balance and proprioception.
Advanced: Weighted Squats or Jump Squats
You can use an implement (e.g., dumbbells, mini-bands) for added control and resistance. When using mini-bands, prevent the knee from collapsing. This requires greater activation of the glute muscles. Jump squats are performed by doing a squat then jumping up, both feet leaving the ground. This improves lower-body explosiveness.
2) Push-Ups
Push-ups are the golden standard in upper body pushing. However, not everyone can perform full push-ups just yet. It requires chest, arms, and core strength to stabilize the whole torso. The movement must start and end with both feet extended, arms chest-level, and the neck, back, and legs straight.
Beginner: Elevated Push-Ups
For beginners, use a chair or box to minimize the movement's range of motion, like the box squat. It is a superior variation compared to kneeling or "girl push-ups" because it mimics the actual body mechanics and strengthens the specific body parts needed for the full movement and core stabilization. Start by doing it on an elevated surface while maintaining proper form. Slowly lessen the height of the box until able to perform on the ground.
Intermediate: Full Push-up
Perform the full push-up and adjust the arm stance. A wider distance works the chest muscles more and is relatively easier because of the shorter range of motion. It can also apply to foot stance: the wider, the easier (stable base, more support). A narrow stance is more challenging and mainly works the arm muscles (triceps). 
Advanced: Weighted Push-up or Plyometric Push-ups
You may add weights on the upper back or do ballistic versions such as plyometric and clapping push-ups to increase the difficulty and develop upper-body explosiveness. Increase difficulty by challenging core stability through lifting either of the limbs.
3) Lunges
Lunges is an example of a single-leg exercise. It develops balance and stability, allowing you to isolate the weaker leg and give it more work as needed. Imbalances are normal and inevitable since we have a dominant side. It has a great carryover to our everyday movements that require weight shift and loading, such as walking and standing up. More importantly, it decreases the strength discrepancies between both sides, which may lead to injuries.
Beginner: Stationary Lunges
For first-timers, stationary lunges is a better option. From a standing position, step one leg forward with the front knee at a 90-degree angle—the back leg is approximately the same distance. Bend the knee of the back leg and straighten it back.
Intermediate: Dynamic Lunges
Dynamic lunges (in place) challenges both balance and proprioception. Begin by standing straight. Step the front (or back) leg, bend the knee, then return to the standing position. Another variation is walking lunges, where you execute lunges and move in a straight direction.
Ballistic versions like jumping lunges develop lower body explosiveness. For increased difficulty, you may add weights on both hands (dumbbells or kettlebells) or place them on your upper back (barbell). If you really want a challenge, why not incorporate both!
4) Rows
Rowing and its variations are pulling exercises that target the back musculature primarily. Having a strong back helps in maintaining an upright torso, leading to better posture, and protects the spine.
There are several variations, and by altering the grip or angle, you can target a different muscle. The back musculature is generally divided into three: upper, mid, and lower back. The list below is focused on training the upper part, so make sure to incorporate mid and lower back exercises.
Beginner: Chest-supported Row
Rest your chest on a 45-degree bench or surface. Make sure that you can fully extend both arms without the implement touching the ground. This exercise removes the stability demands of a standing variation and allows emphasis on the upper back muscles. This can be prescribed to people with slip discs or other conditions wherein the spine cannot be loaded at a horizontal angle.
Intermediate:  Bent-over Row
The most popular form of variation is the bent-over row. Begin by leaning forward, approximately 45 degrees. Using any kind of implement (e.g., water-filled bottles, bags), pull the elbows towards the back and squeeze, extend the arms again and repeat.
Instead of leaning forward, this involves hanging onto something with the feet either planted on the ground or elevated (harder version).  The bar you're holding onto must be chest level with arms fully extended. Pull yourself towards the bar and squeeze your back.
5) Plank
Plank is one of the most popular exercises for the core. But did you know that the "core" consists of different muscles? It includes the midsection muscles of the front, back, and sides.
To execute a plank (elbow), place your elbows under your shoulders with both legs fully extended and hold as long as possible.
Beginner: Elevated Elbow Plank
Similar to the variations above, perform the plank on an elevated surface, or you simply may hold it for a shorter duration. Pay attention to the muscles working. Ideally, you should feel it in your stomach area.
Intermediate: Elbow Plank (on the ground)
Try to hold the movement for a minute or two while maintaining proper form. Avoid curving your lower back and try to maintain a neutral spine throughout. If it's easy, try to progress to an advanced variation. Holding a plank for too long does not have much translation to core strength. Holding a plank for too long may result in neck and shoulder pain and poor posture. A good range is 2 minutes; if you can easily hold it longer, consider a harder variation to challenge stability.
Advanced: Dynamic Plank or Bird Dog
To challenge the entire core, raise one or two of either leg or arm to lessen support by lifting or one-arm or one-leg or both of the opposite/ same side. You may perform dynamic raises (e.g., bird dog). The main goal is to prevent movement at the hip or shifting weight while doing it.
Bottom line:
This article serves only as a general recommendation for exercise. If you have underlying conditions, make sure to consult your physician first on what type of physical activity suits you. Exercise is only one part of a healthy lifestyle. There are many contributing factors that need to be addressed to achieve optimal health. It is also important to get enough sleep and rest, eat a balanced diet, ensure adequate hydration and pay attention to your social and mental health.
Although our usual lives have been altered by this pandemic, we can try to establish normality in some areas of our life, from working in the office to working remotely from our homes. From enjoying the beauty of the outdoors and going to the gym to finding ways on how to maintain our active lifestyle from home, we have come a long way.