Building an E-commerce Website in 2022: How-To Guide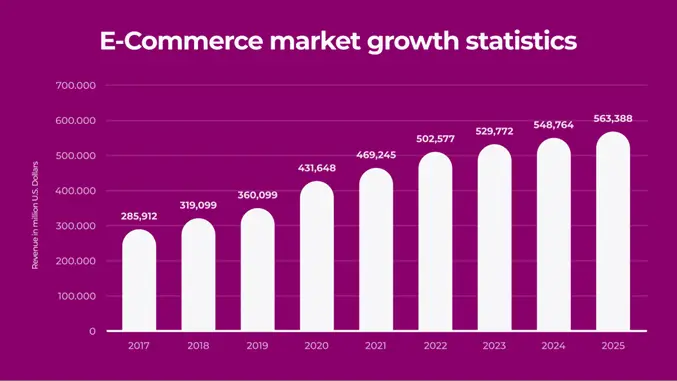 The E-commerce market is growing day by day. Boosted by the Covid-19 pandemic, the switch to e-commerce keeps gathering pace in 2022. As long as the number of e-commerce customers is estimated into millions, no wonder the demand for creating ad hoc websites is on the rise, too.
If you also found yourself interested in leveraging this promising field, then this guide of how to build an e-commerce web space is just what you need to receive a common understanding of this beneficial topic.
Hire a Vendor
If profound IT expertise is not your cup of tea, you will surely need the assistance of professionals. Naturally, a solid expertise in web app development  and experience in e-commerce are top features distinguishing a reliable vendor. Additionally, feedback from a company's previous customers is your best way to check whether the vendor's expertise is worth putting your trust in. Such platforms as Clutch or GoodFirms are valid sources of coherent information about IT companies, such as a review of price & quality ratio.
Find a Fitting E-commerce Platform
The first step you take when opening a shopping place is searching for the right location. With e-commerce it's just the same. A right location for your website is a cornerstone of its success  which, of course, is represented by a stable customer flow and, as a result, high sales. Deciding on which platform to give preference is all about identifying your business goals, its target audience, and the functionality you need to combine the two previous ingredients to their mutual benefit. In this regard, let's concentrate on 3 types of e-commerce platforms: open-source, headless, and SaaS.
Open source platforms
Advantages:
Has an open access to the source code for every user free of charge.
Easily adjustable for your business unique needs.
Simply installed and managed.
Challenges:
It takes some profound development skills to interact with an open-source platform.
Security threats are a common concern here so including a couple of digital field gatekeepers in your dream team is a must.
Headless platforms
Advantages:
Boosted efficiency of processes and better user experience. Headless platforms use API signals to transmit real-time information about actions made by users at the presentation level to the web server and back.
Remarkably friendly to IoT devices.
Unprecedented scalability. Originally created to be implemented within IoT devices, headless platforms have no back-end. In practice this means that the back-end is not intertwined with a platform. Thus, you can use IoT devices, such as smartwatches, as another marketplace in addition to traditional ones.
Security granted for both your e-commerce shop and its customers' data (e.g., PCI compliance).
Flexible for adjustments so any changes based on customer preferences can be implemented satisfyingly quickly.
Challenges:
Requires technological background to handle the management properly.
Relatively pricey option as most headless platforms charge their users with a subscription fee.
SaaS platforms
Advantages:
Guaranteed security goes by default so no worrying about hacker attacks for SaaS users.
Being designed to meet specific requirements of e-commerce business, a SaaS platform contains a line of in-built features tailored to optimize the digital trade, e.g., an automated checkout and payment.
High scalability rate provided by the platform's functionality ensures smooth switching between mobile and web dimensions of your e-marketplace habitat, depending on what device is in your user's hands.
Challenges:
The price bites. Just like entering a medieval merchant guild required paying a membership fee, joining a SaaS platform is a matter of a monthly subscription charge. Besides, additional fees are withdrawn via direct usage of the platform.
The platform imposes restrictions on your e-marketplace design. Premium access is required to customize a design and make it "label-free", i.e. without promoting a platform via tattooing your interface with its permanent sign.
Get Yourself a Hosting
Nowadays, the majority of digital entrepreneurs store their websites' files on third-party servers. Hosting providers differ via a wide range of parameters, but when it comes to e-commerce websites, this narrows down to two main types of hosting: cloud hosting and the on-premise one.
Main features of cloud hosting:
Website's data is stored on a network of third-party cloud servers, both virtual and physical ones.
Scalability of solutions and resources in compliance with user needs.
Reasonable fees due to paying only for the used resources.
Flexible for updates, upgrades, patches.
Hostings are compatible with SaaS and headless e-commerce.
Great option for enterprises.
No efforts put on installation and maintenance.
Main features of on-premise hosting:
Use local, on-premise servers that belong to a single company.
Form a better synergy with open-source platforms.
Works for corporations.
Installation and maintenance takes essential human and financial resources.
Security measures have to be taken by the company itself.
Choose a Catchy Domain
Choosing a domain is like taking the essence of your business and putting it into a concise shape of one to three words and preferably no numbers. Domain name is the first thing that reveals your company's individuality and makes it stand out among competitors. Moreover, domain is what your potential customers will use to find your store and, if satisfied with the service, spread the good word to friends. But all the above is only true if your domain name corresponds to the following recommendations.
What to welcome:
Easy spelling and pronunciation. Keep your domain simple for perceiving to avoid potential customers getting lost on their way to your website.
Originality is a must. Domain name has to be unique so that there is no chance users begin with googling your website and end up with opening another one with a similar name and better SEO optimization.
Keep it short and concise. Again, everything for the sake of stucking in people's memory just like those catchy earworms, but in a good way. A recommended number of characters spans from 5 to 12.
What to avoid:
Hyphens, numbers, any details that overload the domain unit.
Too generic names as they tend to slip people's memory or remain there in a distorted form.
Make an Outstanding Design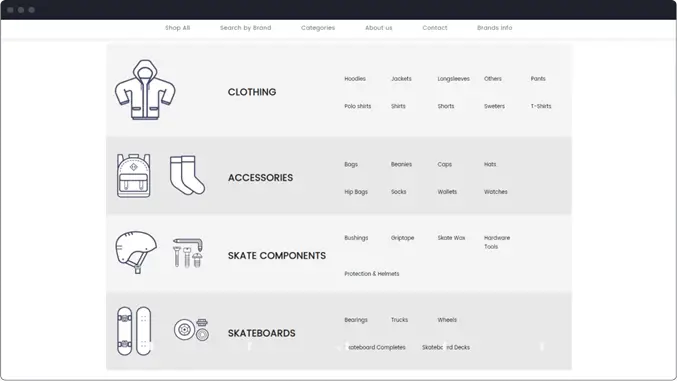 Clear and sound  UI and UX design is your next step in building a successful e-commerce space. In digital trade it is not enough to simply have goods that your target audience considers interesting, but it is crucial to also make the offer visually appealing. A good design is like a map using which each website's element can be easily reached. Transparent goods catalog and smooth custom navigation are top spots to pay attention here.
There are 2 ways to pursue when talking about UI/UX design of your e-commerce website: fully customized design made by professionals, or ready-made design solutions issued by specialized platforms.
Talking about ready-made solutions, they can be effectively implied pointwise, for example, to create a sidebar menu and other elements of customer navigation. An obvious advantage of this option is its cost-efficiency and simplicity. At the same time, be ready that the end result won't be unique and fully reflective of your business concept.
Things are different when creating a custom UI/UX design with a professional development team. Thanks to designers working on the project, each stage of the product development is accompanied by wireframes, i.e. rough images of the website's elements before the final version of UI/UX is found and confirmed in the form of mockups. As a result, you receive UI/UX suiting your e-commerce business unique needs through and through.
Provide Payment Options
After the cart is filled with goods, it is high time for a checkout. Virtual stores here follow the same healthy capitalistic principles that the physical ones: a completed sale is the only satisfying result of a customer journey. Thus, you have to provide your customers with an opportunity to spend their money without giving the idea second thoughts. A payment method capable of achieving this goal equals to the next features:
It is simple to use
Minimal additional actions on user side
It invokes trust
There are 3 possible payment gateways that comply with the above mentioned principles at various degrees. Let's make a short review of these gateways presented via real-life examples.
PayPal. PayPal is a payment method that redirects users from the site where a sale is initiated and runs checkout and payment on the home server. A huge advantage of the redirect payment method is that responsibility for transactions' security fully lies with a third-party provider. However, additional actions are required to be made on the customer side which can drive some from your store in search of an easier option.
Amazon. With both checkout and payment processing happening on-site, Amazon can exercise full control over its transactions while simultaneously ensuring its security. The option is suitable for large corporations.
Stripe. Stripe uses a gateway implying that payment's details are determined on the e-commerce website, while the actual payment's processing happens on Stripe's side. This payment method is an easy task for customers but takes special attention to the question of proper encryption for your transactions.
Launch Time
Now that everything else is ready, it's time to launch your e-commerce website.
But before the final countdown, it's crucial to ensure that everything works as it is supposed to. To this end, it's necessary to run thorough checks of the website's processes feasibility so that any errors and bugs are handled before being discovered by users.
10 Benefits of Shopping through Liquidation Store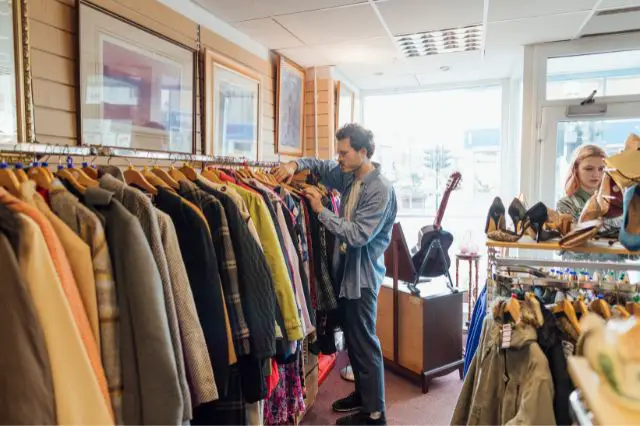 A company will often peddle or hawk its inventory at an exorbitant or extortionate fare to liquidate it in order to inflate money. A liquidation sale usually happens earlier than a business closes.
If you have a clear notion of what you want, are willing to play the game, pay attention to prices, and take the time to shop wisely. Liquidation sales are well worth your time.
Although not often, liquidation sales take place after a bankruptcy filing. In order to save money on having to carry all of the merchandise to a new storefront. A company could liquidate most or all of it as part of a shift to a new location.
10 Benefits of Shopping Through Liquidation Stores:
1. Get Name-Brand Items for a Smaller Percentage of the Retail Cost
Brand-name goods can be purchased at a significant discount from retail costs in a liquidation store. This is due to the things being offered at a steep price in order to get rid of inventory.
Additionally, as the majority of these products are overstocks or returns from the top retail chains, purchasing liquidation pallets of goods from a liquidator ensures that you'll receive high-quality goods.
2. Take Advantage of More Choices and Variety
Shopping at a liquidation store has many additional fantastic advantages, like a wider assortment of goods.
This is so because a number of sources, such as overstock products, customer returns, and closeouts, are used to fill these retailers' shelves with goods.
You will therefore have access to a considerably larger variety of goods than you would at a typical retail establishment.
3. Spend Less on the Entire Purchase
Purchasing liquidation Amazon pallets can save money everything from liquidation pallets in the USA rather than just a few items.
This is due to the fact that the majority of wholesale liquidation companies provide discounts on complete purchases. Which allows you to further reduce your costs by purchasing a larger quantity.
4. Purchase Items at a Significant Discount
The steep discounts you'll discover on goods at a liquidation business are among the major advantages. Brand-name goods are frequently offered at discounts of 50% or more. This offers a wonderful chance to get high-quality goods for a big discount.
5. Purchase Items Locally
You won't have to rely only on internet images and descriptions when you purchase from top liquidation stores because you'll be able to see the products in person. This gives you a better understanding of the product's quality and condition before you decide to buy it.
6. Reduce Shipping Expenses
You can preclude or forestall paying shipping fees by shopping at a liquidation traffic or event, which is another perk.
The reason for this is that the preponderance of wholesale liquidation companies provide free local pickup. So you won't have to pay supplementary to have your goods delivered to your door.
7. Shop in One Location to Save Time
By doing all of your purchasing in one location, you can save time when you visit a buy liquidation pallets.
This is due to the fact that the liquidation shops provide a vast selection of goods, allowing you to discover everything you require in a single, practical location. This is a terrific method to save time instead of traveling around town looking for the ideal item.
8. Eliminate the Masses
A fantastic strategy to stay away from crowds is to shop at a liquidation store. This is because you won't have to deal with long lines and crowded places because these shops are often less busy than normal retail shops.
9. Experience Stress-Free Shopping
You'll encounter a hassle-free shopping environment when you visit wholesale liquidation companies.
This is because you can pay for your products in the method that is most convenient for you at these establishments. Which often provide a wide range of payment choices.
Additionally, most liquidation shops provide a no-hassle return policy. Allowing you to send back any undesirable things without having to go through a drawn-out and difficult procedure.
10. Finding What You're Looking for Is Simple
Finding what you're seeking for won't be a problem when you visit a liquidation store.
This is so that you can be guaranteed to discover the ideal item to suit your needs because these shops often stock a large range of goods.
Additionally, the majority of liquidation shops have a useful internet search function that makes it simple to find what you're looking for.
Conclusion:
As you can see, purchasing at a liquidation store has a lot of wonderful advantages. A liquidation store can be the best option for you if you're seeking a fantastic approach to get amazing deals on high-quality goods.
The major drawback of inventory liquidation is that it frequently takes place quickly. Resulting in high discounts and cash earnings that are much less than the retail worth of the assets.
Take a Look at the Impact of E-Commerce on Rural Development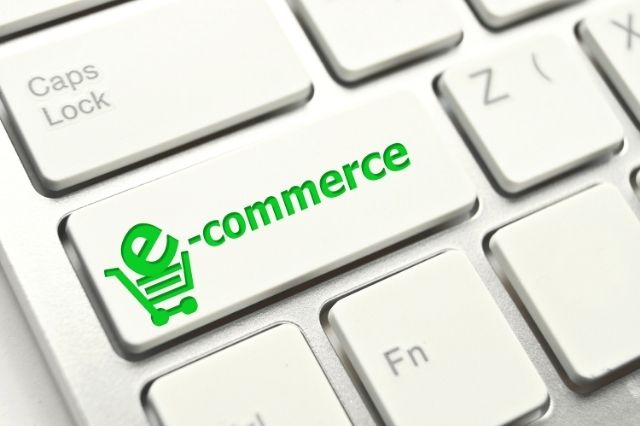 Research by the World Bank and Alibaba Group reveals that e-commerce may flourish in rural areas and help create opportunities for semi-skilled workers, women, and other underrepresented groups. An investigation of China's overall statistics and a survey of Taobao Communities, rural communities that are heavily engaged in online commerce, were utilized to generate the numbers, reports E-Commerce Development: Experience from China. China's e-commerce trends and developments, as well as government laws and private sector activities, are examined in this research to get a better understanding of China's e-commerce growth. Consumers and businesses may be connected via electronic transactions, according to the study.
In terms of employment, it can directly generate jobs as well as via logistics services and other areas of the larger e-commerce ecosystem. It has the potential to boost family consumption while also reducing income disparity by bringing urban convenience, variety, and cheap costs to rural communities. Victoria Kwakwa, Vice President of the World Bank for East Asia and the Pacific, said, "China's experience shows that developing countries can harness digital technology and e-commerce to create jobs and improve people's lives."
More than 5% of China's workforce is employed in the e-commerce industry. Online shopping has become a common occurrence for many Chinese households. "Rural e-commerce has proved that unique enterprises founded by grassroots entrepreneurs from underdeveloped countries can thrive via the e-commerce platform provided the proper conditions exist," said Wen Jia, Alibaba's Partner and President of Public Affairs. The results show that e-commerce has a positive effect on household well-being in rural China.
E-commerce users in Taobao Villages make an average of 80% more money than non-users. E-commerce companies pay their employees salaries that are on par with or even better than private sector earnings in major cities. Women and families with children who are better educated and less well-off benefit greatly from online shopping in China. The report shows the hazards and difficulties that must be solved as e-commerce grows. A level playing field for similar digital services and the protection of customers are among the goals of regulations.
Investments in training and skill-building to increase human capital; effective logistics infrastructures; and an advantageous business environment are all necessary for e-commerce development, according to the research. Gong Sen, Executive Vice-President of the China Center for International Knowledge on Development, which co-hosted the event, stated, "The successes China has achieved in e-commerce may be explained by the country's considerable investment in infrastructure over decades and the quick development of its business environment."
What Are the Advantages of an Ecommerce Website?
People's shopping habits evolve with time. This shift is being aided and accelerated by advances in technology. It's a constant battle for businesses to keep on top of the latest industry trends. Before purchasing anything, today's shoppers spend a lot of time searching for things, looking for alternatives, and comparing costs on numerous company websites and shopping apps. A superb shopping experience may now be had thanks to cutting-edge technology. The long-term benefits of e-commerce are undeniable.
Commercial transactions through the internet, as well as the movement of information, are covered under e-commerce. Different channels are used to make this transfer — a brand's website, an online marketplace like eBay or Amazon, a mobile app, or even a social networking platform like Facebook Marketplace, Pinterest Buyable Pins, and Instagram Shoppable Ads.
The advantage of selling online is the ease of being able to offer items or services to any customer at any time, regardless of their location, even though there are many methods to do so. Traditional retail strategies are a thing of the past when it comes to setting up a simple online business. To create your e-commerce site, you may utilize pre-made themes from a variety of e-commerce platforms like Shopify and Squarespace. Everything from hosting to PCI compliance may be handled by the platform. Before you can begin selling on other marketplaces like Amazon or eBay, you will need to create an account with them.
It is less expensive to start up an online shop than it is to open a physical location. Signing up for a free account on most online marketplaces and e-commerce websites is commonplace. If you want to use their platform to sell things, you'll have to pay a little fee (usually a % of the selling price). You may make use of order fulfillment services or drop shipping to get merchandise without paying a significant price. Social media, Google AdWords, or organic search give cost-effective means of promoting your internet company. Payroll costs may be avoided by running the firm yourself. To develop your company, you need to increase your sales. Consumers began their search for a product online at a rate of 87% this year, up from 71% in 2012.
People who look for products online, regardless of whether they purchase them at a brick-and-mortar shop, begin their search on Amazon or eBay. When looking for a product online, shoppers compare prices, brands, reviews, and more. As a result, a company's online presence is critical if it hopes to reach its intended audience. One of the advantages of selling online is that it is quick and easy to gather and analyze customer data.
First-hand data on how people engage with your website may be obtained by selling online. To enhance customer experience and increase revenue, the data gives you insights. The ability to monitor customer contact allows you to find and perfect feedback loops for any actionable information that will help you improve your customer's experience. It's enough to follow ethical data collection and use practices and safeguard such data. As previously said, e-commerce selling may be done in a variety of ways.
For businesses, the greatest thing is that they can utilize a variety of internet touchpoints to connect with and engage a wide range of customers. Having an internet presence helps your company to provide clients with a wealth of information about the goods and services you provide. A branded website provides the sellers with a platform to share important information with their consumers. Product descriptions, comparisons of items, availability of inventory in-store, and price are among the most important product information.
It is possible to utilize an e-commerce website to present clients with a lot of information about the company or the items they sell. Using blog articles and videos, a website may provide a wealth of information on how to use goods or services. Businesses can more easily meet the demands of specialized markets thanks to the growth of e-commerce. Someone who wants to sell a very rare coin may have difficulty doing so. Internet technology has made this simple and easy, though. It may be simpler to sell your things online if you target a certain niche.
In addition to researching things online, consumers are increasingly making purchases online as well. As a result of the advent of e-commerce, consumers may now buy whenever and from anywhere they choose. Instagram Ads or even mobile applications may be used to sell things to Instagram users. Additionally, e-commerce has made it possible for sellers to remove friction points from the sales process, while simultaneously making it possible for customers to purchase things they want from almost any source.
Emerging Trends for 2022
The service sector contributes around 54 percent of GDP from a macro standpoint. Rural regions have seen a similar trend, with the service sector growing rapidly as a viable alternative to farming (and related industries). When the pandemic hit, the rural service industry created eight million new jobs while the rest of the country struggled under the weight of widespread unemployment.
The commercialization of rural regions is being aided by an increase in the use of e-commerce by people in increasingly remote places. Because of the widespread availability of cellphones and inexpensive high-speed internet in rural areas, this might be a factor. Consequently, the service sector has been expanding steadily throughout the area.
Rural communities are now linked to the rest of the globe thanks to social media and the internet. If they want to know what's popular or happening around the globe, they may do it via social media. Customers, on the other hand, may now purchase everything they want in their favorite language with a single click, boosting the e-commerce consumer rate. Incorporating neighborhood retailers as last-mile service providers are likely to increase eCommerce's total reach at a steady pace, too.
E-commerce allows rural residents to sell their handmade goods to urban dwellers and customers all over the globe, which helps grow the rural market. Achieving the goals for rural trade would be impossible without a steady rise in rural literacy. They'll feel obliged to learn more about it as they utilize the internet more and more for their everyday requirements. People of all ages may now study and learn online thanks to e-commerce websites. To learn, students won't even have to leave their rural communities; instead, they'll use cell phones and computers they bought from internet retailers.
Education technology (Ed-Tech) is also showing signs of spreading to the country's more remote areas. Because of the collaboration between the government and the private sector in rural parts of the nation, literacy rates are increasing (recently reached close to 77 percent ). Rural commerce, in particular, has the potential to provide new avenues for enterprises and jobs via e-commerce and other commercialization.
Top 10 Temando Alternatives & Similar Shipping Software for Ecommerce Business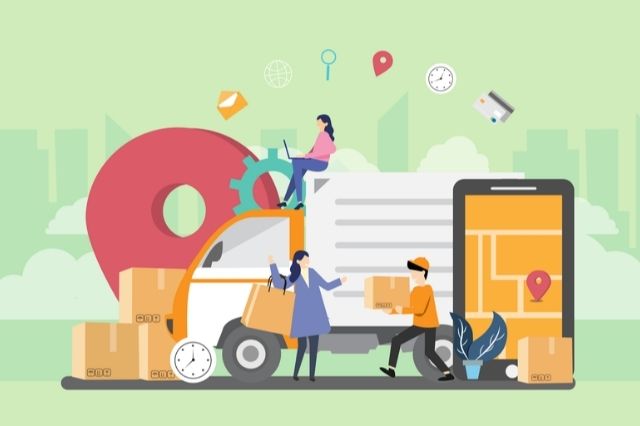 Shipping software is a program or a website that can assist you in your eCommerce needs. Whether you need to generate shipping labels, or add inventory and figure out shipping fulfillments from your customers.
Shipping software will make it incredibly easy as well as time-effective for you to manage your business and run smoothly. Alongside talking to your customers, it gives you extra assistance to track shipments too.
Manual labour and hard work gets minimized when you bring in a shipping software, and it can become less tedious going forward with your shipping management. A clear answer to all your eCommerce needs- shipping software.
Things to Consider When Evaluating Shipping Software
As easy as a shipping software makes the process, picking the right one is a challenge. There are a lot of things to consider before investing in any shipping software but don't worry, if you want to know what to exactly look out for, read ahead.
Customer service comes number one in the market of shipping technology. Therefore, having good customer service in the shipping software is a necessity.
Ease of use is yet another factor to be kept in mind when considering a shipping software. Thus, a platform that can easily handle the most difficult of shipments is great.
Tracking status is also another need, so make sure your shipping software can offer in the moment tracking of shipments.
When it comes to generating shipping labels, the shifting software should have the ability to make use of modern technology to create and print labels fast and efficiently.
International needs, and handling international shipping rates also becomes the need of time. Your shipping software should have no difficulty managing rates as well or converting a currency.
Temando- Best Shipping Software
From a business standpoint, Temando is your best option for choosing a shipping software, because the  shipping technology is advancing everyday which is what Temando was made keeping in mind.
It can not only handle different types of shipping support but also boost your e-commerce business by providing a safer platform that is trustworthy.
You can also work as a small business and choose carriers of your choice with your bulk shipments. It also becomes handy with its ease of use, as well as customer outreach. Combined with the tracking labels that you can print, it becomes our number one choice.
From a customer point of view also, Temando is great! You can also choose when you want your package to get delivered, this solves any needs your customers may require for their shipping fulfilment. Customer service is also fully catered to, and so your customers will always be satisfied.
Top 10 Temando Alternatives- Similar Shipping Software
Though we know it can get tough to settle on one shipping platform, for that reason, we also came up with some alternatives so that you can have different options ready to use whenever you feel the need to.
For your small business or traditional eCommerce needs, stamps.com makes it more than easy to print shipping labels, and with the layout that gives ease for you, it also provides a safe platform free from any hassle.
You can also fully customize the way you create your labels, and it even offers in-app tracking. The tracking allows for easier searching for your packages, therefore making stamps.com a highly reliable shipping software.
E2 shop system is your answer to any shipping fulfilment that you may need. As well as total control in your hands, it offers an alternative to difficult to use shipping software. You can use this website to schedule different types of carriers, as well as any issues regarding your labels or shipping liabilities.
It also tackles well in international shipping rates so your customers living outside won't face any issues.
OrderHive is an advanced shipping software that takes care of all your organization for you. With an inbuilt shipping calculator as well as supplies to figure out the way you want to contact USPS, DSL or any other company to handle shipping tracking, it solves the issue of needing to go to different middlemen for shipping needs. It's the best.
OrderHive has many positive reviews too.
With the ultimate use of shipping technology, we see a cloud-based software that not only handles printing and courier ratings but also ultimate customer service when it offers returns and pick up for product offers.
From the moment you click on the "end order" button to the minute your order arrives at your doorstep, your customer's needs are catered to by EasyShip. So, look no further than working with them for your eCommerce business.
An all in one solution to your shipments. ShipMonk not only offers basic label printing, but it also offers pick up and drop off service, as well as inventory management, so your website never looks cluttered. In addition to that, it also looks out for tracking the product that goes out of your warehouse.
The perfect combination of technology put to use but also is excellent in terms of a platform that can concatenate all your products into one. The quality of the labels are also really high and the platform looks easy to use and grasp for people who are new in eCommerce business.
When it comes to distribution logistics, we highly suggest the use of Loginext Mile, as they master the art of the best delivery routes, so that you can save money as well as time. It picks out the safest and most efficient ways to deliver the packages to your customers.
And with a tracking system inside, your package will never get lost.
Moving on from just shipping labels, a great aspect of shipping management also includes the delivery routes from whereby your product reaches the customer, increasing your base of eCommerce. SmartFreight makes that job easy as they provide you with the best routes in hand.
Different providers that give you access to hundreds of carriers that can carry your product. This platform becomes the ultimate help for your business. It is not only cheap, but packed with some of the highest quality routing systems, your product is on its way to the customer.
A simple portal for all your shipping requirements, SendCloud offers services such as inhouse management of your products, as well as tacking orders and giving you different people that can offer to deliver your product further.
Linking you with all the best-branded tracking services, you're sure to never become disappointed with the shipping software that we recommend you. So, rest easy knowing that reliable software is taking care of your products.
Postal and curating a "track shipments" service has never been this easy. With EasyPost at your disposal, you can rest assured knowing that your products are in safe hands as EasyPost not only gives you the options of multiple shipments, but it also costs you less as compared to traditional services.
They also take into account international shipping rates and therefore find out the best pricing for you so that you can work with what you have. Therefore, saving you any extra money that you would have to otherwise spend.
Last but not least, let's look into yet another great shipping software that is ShipHawk. ShipHawk takes into account the size of your package, in kg or different sizes and then figures out the best rates for shipping out when normal platforms will charge you extra for heavier products this platform will not.
As well as printing shipping labels, you can collect all your data into one and save money on bulk shipping labels, as well as different delivery options, so you don't need to worry about needing to go to another website or platform to handle your shipping fulfilment.
Conclusion
When it comes to choosing different shipping software, we know that it can get difficult to just connect to one. This short comprehensive list of shipping software can really help you when picking one that fits your store the best!  Shipping management doesn't have to be hard, just make sure you are choosing the right option to keep you moving!